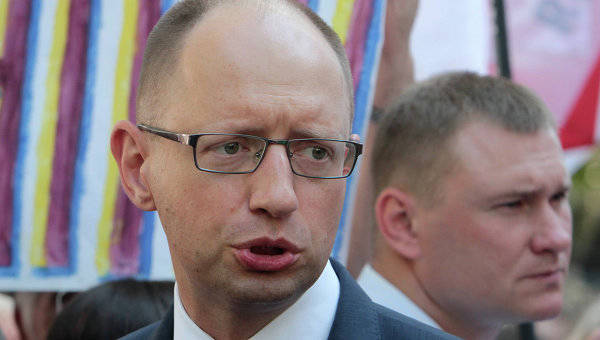 Prime Minister Arseniy Yatsenyuk said: "Gazprom has 24 days for a price reduction."
The situation is, in fact, simple.
The drunk comes to the village general store and says to the saleswoman, characteristically stretching the words:
- Dusya, look, here I have been taking Vodyara here for several months already, I don't have any money, so you write it down in a notebook.
- Well? - tiredly asks Dusya
- Here! - raises up with a sweeping gesture finger drunk Arseny - Now the main thing, ik, oh. I propose to set off February vodka for 10 rubles per bottle, and then I may give you money.
There is a thud and the sound of a falling body. This Dusya, old Soviet accounts, and the body of Arseny.
- Go to work, drunk, I will not save you any idiot! - shouts Dusya from behind the counter
- Excluded - Arseny, lying in a comfortable position, reports - I am not some cattle to work there, I am a key point of the rural policy, many are interested in me and I can sing and dance beautifully
- Only now try to scare the buyers with your screaming drunk with your screams - says Dusya - I will call the district officer at all
- Here! Idea! - says Arseny, standing on all fours and planning to take a vertical position from the third time - I will now go to the police officer and write to you a statement that you refuse to sell February vodka for a dozen, that is, you sabotage the goods turnover in the village, you could get cash, right soon, and you don't specifically want to, because you, Dusya, are a mischievous and not good woman (Dusya is already standing side by side on the backswing, heavy accounts, so the rhetoric is changing towards softening)
- Come on, let's get out of here, a parasite - says Dusya, with his hands on his sides
- I will correct - the European - says Arseny, hitting the doorjamb and frowning - And I'll come back here with the precinct in 24 of the day and we will talk about your ugly and anti-human credit policy.
- Yeah, let's talk - Dusia says cheerfully - Come with the precinct.
- Listen, mother - Arseny unexpectedly falls down - And there are no checks? Pipes generally burn, help, eh?
- We will never be brothers - reports Dusya, rearranging the goods on the shelves - Free, drunkard.