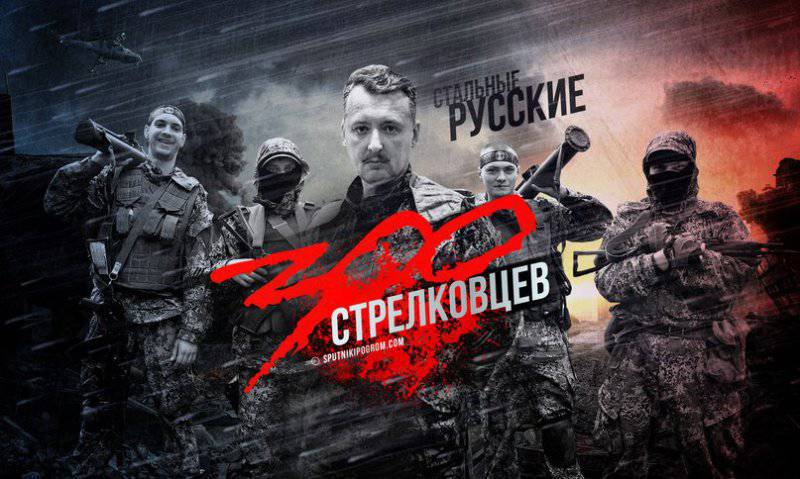 Information from Igor Strelkov: Donetsk land has not become scarce or Ukrainian infantrymen and paratroopers to note .... | Russian spring
From the press service of Igor Strelkov.
I conveyed congratulations to Igor Ivanovich on the Victory Day on my own behalf and from all caring readers. He thanked warmly for the congratulations. He, in turn, congratulated me and ordered to convey congratulations to everyone.
We discussed how Victory Day was held in Slavyansk, in Lugansk. We discussed the restored T-34 tank, which is now fighting for the Luhansk militias.
I noted that how interesting I turned
story
that
weapon
it helps our grandfathers now, in the XNUMXst century, to fight modern fascists. To which Igor Ivanovich, as an expert on this weapon (he is a reenactor!) Told me a lot of interesting things!
Well, you know about the PPSh of the Gorlovka militias.
Igor Ivanovich said that many of his fighters are armed with brand new Nagans, TT pistols.
Where does he get them from? I do not know!
I asked him inadvertently, but where do you get all this? He is a cultured, intelligent person. They didn't send me right away for a stupid question.
He answered culturally: "The land of the Donetsk region has not become scarce ..."
They very briefly touched on the topic of combating enemy armored vehicles. Well, everyone already knows about ATGMs. They are already shown everywhere.
And then Igor Ivanovich said (quote) "it's a pity that there are no simpler and easier PTR Degtyarev at his disposal,
and Simonov's PTR is very capricious. "
For reference. PTR is an anti-tank rifle. They were actively used by our soldiers during the Great Patriotic War. There were two types of anti-tank rifle: the Degtyarev anti-tank rifle (single-shot) PTRD and the Simonov anti-tank rifle (multi-shot).
I also know a little about weapons. But in theory.
And Igor Ivanovich is practically, one might say, as an EXPERIENCED user. :-)
I ask him: "And against what modern armored vehicles can the PTRs be used during the war? Only against armored personnel carriers? "
He answers me: "PTR easily hits everything except
tank
... Not only armored personnel carriers, but also BMP and BMD including ".
Well, Igor Ivanovich's tanks are in charge of the ATGM collection (Anti-Tank Missile Complexes).
For those who are not in the know. BTR - armored personnel carrier. They are mainly used by Ukrainian motorized riflemen and all kinds of riffraff, such as the National Guard and Pravoseks. BMP - Infantry Fighting Vehicle. We can say that this is a light amphibious tank that is capable of moving motorized riflemen and supporting them with cannon and machine gun fire. It was the BMP that stormed Mariupol yesterday. BMD - Airborne Fighting Vehicle. Conditionally the same as the BMP, but they are used by Ukrainian paratroopers. Exactly 6 pcs. BMD went to the militia of Slavyansk.
And yes. Forgot to add. Igor Ivanovich asked to convey to the not indifferent residents of Donbass that if they accidentally "overlooked" PTRd (Degtyarev's anti-tank rifles), he would gladly take them for temporary use. There is no need for ATRs (Simonov Anti-Tank Rifles) ...
Yeah. The land of the Donetsk region has not become scarce!
I completely forgot! Who am I writing this for? First of all for Ukrainian paratroopers and motorized riflemen!
No need to follow criminal orders!
Do you really want to experience the effects of the Soviet weapon of Victory?