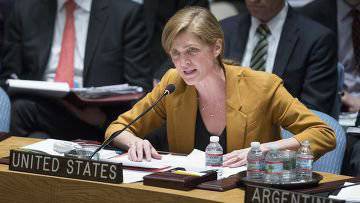 Ukraine has come full circle. Six months ago it was a hectic, but united country, and today it is falling apart. General Vasily Krutov, appointed by the interim government in Kiev to direct the so-called "anti-terrorist" military operation in the east and south of the country, admitted over the weekend that Ukraine "is essentially in a state of war."
The elected president of Ukraine, Viktor Yanukovych, had to leave in February because of the violence that erupted on Independence Square, where the demonstrations began back in November last year. We still do not know who is responsible for the shooting, which was justified by the coup against Yanukovych. But we know the following: today, the temporary ones, who have taken his place, are shooting, and they kill dozens of their fellow citizens in dozens, calling them terrorists.
The most tendentious hypocrite in the Obama administration's Samantha Power (and there is very keen competition for this title) said in defense of these killers: "Their reaction is reasonable, it is proportionate, and frankly, any of our countries would do that with a similar threat. " She announced this at the weekend, speaking at the UN Security Council.
Nothing like? But it should. Is this not a repeat of the Egyptian catastrophe? The elected leader who tries to preserve the unity of the nation is overthrown on its terms, and then comes such that it is many times worse than what this overthrown leader could only dream of. After that, the army is thrown into battle against those whom it must defend. Having secretly supported the coup, the Americans declare: "No, it was not a coup. The chosen guy was overthrown by force and replaced with an un-elected for the sake of restoring democracy. There will be other elections that will be held under the leadership of those who are not elected, and they will confirm that this is all for the best. "
In its swiftness, damage and the number of victims, the events in Ukraine are staggering. This is some kind of performance.
And this is a positive moment of the Ukrainian catastrophe. The anatomy of these events is visible to everyone, and it is very spectacular. I can't even remember such revealing moments. Almost no one hides anything, even what they should have hidden. And even the efforts to conceal what is happening are clearly visible. Pay attention, and you will see some things that we need to learn, first of all, about ourselves.
It inspires me. As far as I understand, quite a significant part of the attention of society today takes the position of rejection of official plot narratives and opposes it. This testifies to the important events that occurred at the sunset of a long period of America's imperial ambitions.
The official point of view in the case of Ukraine is imposed more than ever aggressively, powerfully and everywhere. The official line is reproduced unceasingly and without the slightest deviation of the arrow, even in a couple of divisions. Vladimir Putin intervened (and it doesn't give a damn that he is clearly acting very restrained). Kiev stands for all Ukrainians (a lie that is not even negotiable). Those who are against Kiev are separatists (although Kiev itself proposes to separate Ukraine from the huge strata of its past).
It is instilled everywhere, constantly and actively as ever. But somehow very superficially and slippery. And behind the scenes, where the most interesting things always begin, the official line sounds not so convincing anymore - even in the farthest outback.
I try to emphasize the utmost clarity and clarity of the current moment in the midst of all this vagueness and turbidity. And here two things stand out more sharply and clearly than anything else. Let's talk briefly about each of them.
The first is the perseverance and determination of American politics in the aftermath of the Cold War and after Bush Jr. All this we see visually and without embellishment, and our common duty is to understand the true essence of what is happening.
Here Ukraine takes its place as one of the threads in the general pattern. Despite all the talk about the diplomacy of the 21 century and the adjustment of its positions in the increasingly complex world, Washington is still engaged in the elimination of the leaders of states who refuse to obey the neoliberal order.
I mentioned Ukraine and Egypt. This comparison is also suitable for their presidents, who have been pushed aside. Yanukovych and Mursi had one thing in common. Both tried to lead their countries in accordance with the characteristics and individualities of their peoples. That was their mortal sin. With this, Washington is still unable to reconcile.
Remembering this against the rules, but Yanukovych was a man under Russian influence in the east, and he tried to build relations with Western Europe so that they corresponded to the complex trends that exist in this country with a population of 46 million people. He did not succeed for reasons that have already been discussed in the media (though not in our edition), but his plan was correct.
Speeches by supporters of Mohammed Mursi in Cairo
Mursi is the same. His plan was to develop a democratic model in a country with a Muslim majority. In Islamic civilization, the lines between religion and politics are different. So what? Again, for Egypt, he did everything right. Accordingly, for the Americans, his actions were wrong.
Here is one example about Mursi. Remember, one of his most flagrant blunders was an attempt to clear the judicial system of Mubarak. At first glance, this is evidence of his anti-democratic intentions, which we were constantly told about. And now, when the old judges are sentenced to death by 600 people at a time, we, if there is a desire, cannot but understand that Mursi was right. These people are savages and they are anti-democratic by any measure.
For more than a century, there has been an almost unanimous opinion of all forces and sectors of society about the aspirations of American politics abroad. We have liberal democrats who are as aggressive as militant Republicans like John McCain. The difference between them is only in the methods of work.
Again, Ukraine is causing particularly sharp disputes over what is happening there in different places. We know that the CIA participated in the conspiracy against Yanukovich - its director John Brennan confirmed this fact when he came to Kiev a few weeks ago (another unsuccessful attempt to do it in secret). But we no longer conduct "elimination operations," as spies called conspiracy to kill. Remember this wonderful euphemism?
Now sabotage and subversive activities have become much cleaner. A significant part of the work performed by diplomats. We use non-governmental organizations, civil society groups and various foundations, such as the National Endowment for Democracy. Everything has become more cultured. We invest in social networking projects. And who can speak out against social networks?
If you want examples, take a look at Venezuela, where over the past year three "nation-building" projects were exposed. Or the program of social networks in Cuba. It is not secret, says the State Department (which funds it). She is "silent." And you can still recall similar projects in Afghanistan and Pakistan. Two of the many that are exposed today. Two years ago, everyone loudly condemned Putin when he declared that NGOs financed from abroad should be registered as foreign agents. Remember? When the State Department expressed "deep concern," Putin condemned Americans for "rude intervention." Now we know what he meant.
This is the US foreign policy of the 2014 model of the year. She is often impolite, often illegal, deliberately aimed at disrupting order, and has no idea when to stop. Saddam Hussein is no more, and it will take a lot of effort to get this topic back to re-discussion. No more Gaddafi, no Mursi, no Yanukovych. Nicholas Maduro will not be if Washington gets his way. It is necessary to overcome a whole mountain of prejudices and misinformation in order to understand what Washington did wrong in these cases. But it will be wrong. The qualities of these leaders have nothing to do with it.
"The first victim of the war is the truth." Most journalists, at least from my generation, know this phrase from Philip Knightley's The First Casualty book. it
story
about war correspondents, which ironically begins in the Crimea of ​​the 19-th century. Maybe we should talk not about the State Department's policy, but about his war, because the reports about her are almost always terrible.
Now about the second distinctly appearing moment. The media came in the post-Cold War era in bad shape because they surrendered almost the entire territory that separated them from power (political, corporate, financial in the securities market). But today there is no shortage of cowardly and cowardly people.
There were obvious cases when the perpetrators were seized by the hand, as in the story of
weapons
mass destruction in Iraq by the notorious Judith Miller. For example, about the role of Washington in the Egyptian coup, about the gas attack in Syria in August last year, and now about the provocative machinations of the State Department in Ukraine. But apart from these exceptions, we will see everyday attempts to distort the truth and mislead, monotonous and tireless work using ambiguous vocabulary, photo montage, insinuations and other tricks that poison the speakers
News
.
Again, we have positive qualities that outweigh the disadvantages. I have no illusions and I understand: millions of people read or watch these Washington-born stories and believe them. But here the other side of this phenomenon is more important: how many people no longer believe in it and never believed.
I think we are entering a new space. Let it be gradual, but we are clearly moving away from the time when we ingenuously took everything at face value. One cannot endlessly pursue foreign policy without having an internal consensus. But he is no more, even in our terrible era of "terror". More importantly, there is little hope of its appearance. And I believe that in the future we will see and hear a lot of dissent.
It is also impossible to successfully manage the media when your problem is much more serious than the technical changes that the journalists have focused on. And the problem is that more and more people do not believe what you are saying. The media at this stage is by definition decaying. A great newspaper remains great only when it is large and small, but in every issue it confirms and increases its greatness. And if you live by past merit, using them, but without adding anything to them - this is called decay.
Being an exceptionally balanced journalist, I will end with a reference to a very remarkable article that appeared last Sunday in the New York Times. The big boys and girls who run everything, she certainly liked it, because they stretched it into four columns on the front pages, providing it with a huge photo. Let's take a look.
Pro-Russian activist in Slavyansk
In the article "What Masks Hide in Ukraine, or a Many-Faced Rebellion" (Behind the Masks in Ukraine, Many Faces of Rebellion), C.J. Chivers and Noah Sneider presented a magnificent example of journalistic prowess. They spent many days with militias in Slavyansk, located in the east of the country, and controlled by opponents of Kiev. They were at the barricades, at checkpoints, in the barracks. They were sitting at the table, and the mother of one of the soldiers named Tanya fed them lunch. You can even smell the rifle oil with which these people clean their weapons.
And here there is one truly amazing thing. Chivers and Snyder decided to find the answer to the difficult question of who these fighters really are. And they answered them honestly. Now we know that there are no Russians among these so-called green men. These are "ordinary Ukrainians," as the correspondents called their commander. The propaganda term "separatists", which appears constantly and repeatedly in typical news, they use only once, when one militia refuted it, stating that this is an absurd characteristic of their intentions.
"The rebels from the 12 Company are, apparently, Ukrainians, but they, like many in the region, have close ties with Russia and a craving for it," Chivers and Snyder tell us. - They are veterans of the Soviet, Ukrainian and Russian army. Many of them have relatives on both sides of the border. They are characterized by a complex mixture of identities and commitment. "
What do these Taims writers write? Nothing special, just about people remembering their history and not wanting to be deprived of the past by temporary people from Kiev, manipulated by Americans who pursue their own goals (people from Slavyansk are well aware of this).
This article contradicts virtually all that the New York Times reports on events in Ukraine. But sometimes it happens. After the appearance of this article, a whole sea of ​​false and false information was poured over it, as if Chivers and Snyder had never written it. And this does not happen sometimes, but more often.
If our paths cross, I'll give these two journalists the first copies of the Book of Laughter and Oblivion. "The struggle of man against power is a struggle of memory against oblivion," Kundera wrote his famous words in this literary masterpiece. Guys, you heard it in Slavyansk.