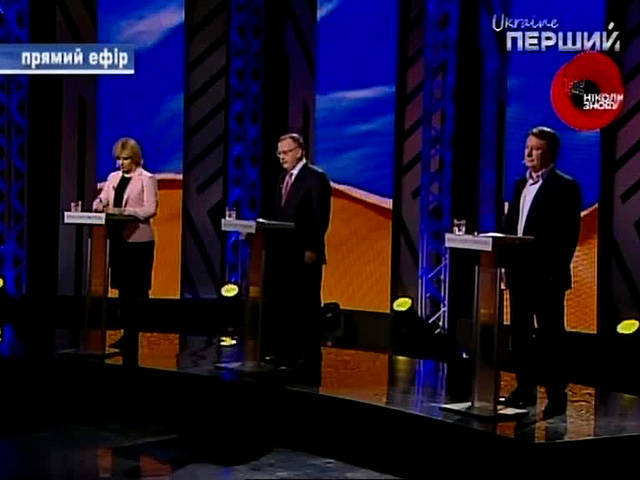 Against the background of the punitive operation in the south-east of Ukraine, the Kiev junta begins an active phase of the election campaign. Television debates of candidates for the presidency of the country started in Kiev. 20 candidates will have to answer questions from Ukrainians and discuss with each other.
In Ukraine, the television debate began presidential candidates. They are broadcast on state television. Perhaps this will revive the very sluggish interest of voters. Until now, the current election campaign is considered the most uninteresting and boring in
stories
Of Ukraine. Public attention is riveted on the domestic political crisis, and the level of interest in candidates and their election promises is approaching zero.
Debate will be held until 23 May. The 3 candidates selected by lot will take part in each round. 20 contenders for the post of head of state will appear before voters.
In the first round, a case brought together famous people in the country, such as Olga Bogomolets, a famous doctor and owner of an elite clinic in Kiev. The pilgrim is also known for the fact that the Estonian Foreign Ministry referred to it when it asserted that it was not the police who shot the maydanovtsy. However, this time the Pilgrim did not touch on this sensitive topic, but she called for the introduction of European troops into Ukraine.
Anatoly Gritsenko, who was Minister of Defense under Yushchenko, also turned out to be very aggressive. He demanded to create an anti-Russian coalition and apply sanctions to it following the example of Libya. The third debater, a little-known politician Oleksandr Klymenko, acknowledged that the citizens of Ukraine want to escape from the current realities.
However, none of the candidates could offer ways to overcome the socio-economic crisis, smoothly turning into a complete collapse of the economy. The debut debut did not cause much interest and hardly seriously raised the rating of candidates who are considered to be doomed. And the next debate is unlikely to be more interesting.
The emphasis is on Petro Poroshenko, who is favored by the United States. It is already obvious that he is being prepared for victory in the first round of elections. The honesty of this victory will be more than doubtful, but now no one in Kiev or in the west considers the integrity of the elections. Everyone understands that the current government may simply not live to see the second round of elections.