Mercenaries, suhpayki and MI-6: proof of the work of Western intelligence agencies?
"The snipers on that hill were British. People have seen. They could be distinguished by their uniform, "Vitaly Nelovich says with confidence. "They were at the television tower. But even before they appeared there, we saw others who flew in by helicopter. They were black. "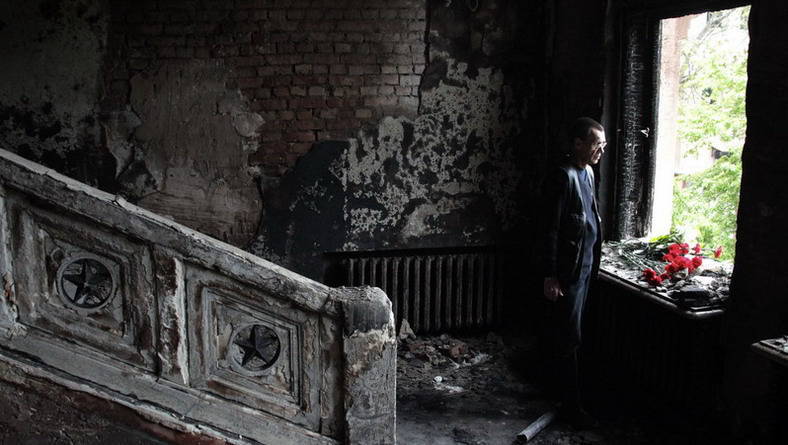 Jacket of the British military and American rations packs found at the site of the hostilities in Andreyevka aroused understandable suspicions among local residents
In the voice of Alexei Viktorovich, there is not a shadow of doubt:
"Black men were clearly professionals. I myself am a military man, so I see a difference. They stayed here for a short time, flew in and flew away. "
Local residents say that there were other "evidence" of the presence of foreign military during a shootout between Ukrainian troops and local residents in Andreevka, near Slavyansk, which killed between seven and ten people and injured twenty more.
There were MRE dry rations - the main source of power for American troops during the fighting, in brown bags, which are well known to many in Iraq and Afghanistan and labeled "Made in USA".
Between the blood stains on the ground and the bodies of the dead, they found NATO 5,56 mm mm liners used for the American M16 rifles.
"I do not say that it was the foreigners who were killed, but they were here"
, insists 45-year-old farmer by the name of Velovich.
There is a plausible explanation for these two points. Washington announced the shipment of "non-lethal" aid to the Ukrainian troops, so that "jambalaya (a Creole dish like pilaf; note mixednews) with chicken and shrimps can fall into this category. M16 rifle is not normal
weapons
for the local army. But the forces operating in the region include units of the newly created National Guard, and rifles could be obtained by the Kiev authorities through third parties. "Dark-skinned" fighters could theoretically be from the former Soviet republics of Central Asia, but again, there is no evidence of this yet.
As for the British soldiers, there is absolutely no evidence of their presence in the conflict zone. However, stories about them logically coalesce with other similar stories about "hidden forces" and "mercenaries", about which both sides do not stop talking as the violence intensifies. This is a common situation during a civil war. It is difficult for people to realize that their compatriots are shooting at them, it is much easier to blame a third party. How can there be no conspiracy theories?
One of the military commanders of Slavyansk named Leonid is also sure of the existence of mercenaries.
»They arrived in off-road vehicles. I think it was scouts. They did not behave like the locals, clearly professionals. They did not shoot in response to our shots, so as not to give out their positions. Then they just disappeared, but we found their uniforms. They must have dressed in civilian clothes. "
5,56 mm sleeves and bags from American suhpaykov found in the vicinity of Andreevka
In addition, a jacket with a British flag on the sleeve and an emblem in the shape of a panther head was found.
"What is it? How can this be explained? "
asks the militia. The same jacket appears on one of the videos from YouTube. However, it is not excluded that the excess jackets sewn for British soldiers in 2009 were sold and somehow ended up in Slavyansk.
The allegations that "soldiers of fortune" operate in the east of the country for the first time sounded a few months ago, when well-armed men in masks and unmarked military uniforms dispersed pro-Russian demonstrators in Donetsk. Protesters shouted: "Blackwater! Blackwater! "It was later said that these people were not related to Blackwater, but to its subsidiary, the private military company Greystone.
In Kiev, in turn, they constantly repeat that there are FSB officers in the country who allegedly play a key role in organizing the unrest, and that units of the Russian special forces are directly involved in the hostilities. At the same time, they recall the "green men" who showed some activity in the Crimea. The same accusations are repeated in Washington, London and other Western capitals.
The Ukrainian government points to the identity of the commander of the self-defense forces of Slavyansk, Igor Strelkov. The SBU believes that in reality it is Igor Girkin, colonel of the Russian intelligence service, also known as the "Shooter".
However, in an interview with a Moscow newspaper, Strelkov / Girkin / Shooter insisted that he was Ukrainian, not Russian.
Meanwhile, it is quite possible that the former employees of the Russian army are fighting now in Ukraine. A former Ukrainian soldier named Alexander complained, pointing to his uniform:
"I saw this in pictures in the Western media. They claimed that she was Russian. But actually it is not".
Then he asked his friend to call Nicholas. When he came, he said:
"Here look! This is a Russian uniform. "
«
What? Who is it? Wait"
I choked on the tea that I was drinking. The men smiled and left. Who is this Nikolai? Of course, he could be a former Russian soldier. And he could have been a Ukrainian, who somehow had a Russian uniform. Here it is really difficult to figure out anything.