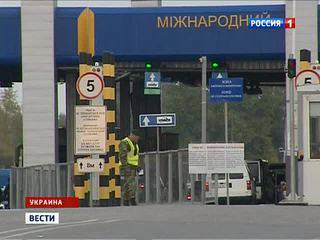 On Thursday, May 8, late in the evening, unknown persons staged a provocation at the Ukrainian Izvarino checkpoint on the border with Russia. People in black unmarked, but with St. George ribbons, set fire to the customs point and disappeared, reports the Russia 24 channel. This was announced by the head of the Federal Customs Service of Russia Andrei Belyaninov.
A source in the Russian authorities expressed surprise at the fact that the provocation was carried out, despite the information that had appeared earlier about its preparation. A few days ago it became known that the Security Service of Ukraine transported from Kiev to Donetsk around 20 people from the personal guard of the governor of the Dnipropetrovsk region Igor Kolomoisky, as well as military ammunition and fake certificates of the Russian military. The task was set: to attack the Ukrainian border guards in military uniform of the Russian type and record what was happening on camera.
A spokesman for the Southern Customs Directorate of the Federal Customs Service of Russia, Royan Farukshin, said: "On May 8 around 19 hours Moscow time at the Ukrainian checkpoint - Izvarino customs post of Lugansk Customs of Ukraine - a minibus drove out of which armed people in black uniform ran out about 30 people. St. George's ribbons were on the chest of these people, and stripes of red scotch were on the sleeves. People in black uniforms threw Ukrainian Izvarino checkpoint Molotov cocktails, which caused a fire . Then they got into the van and fled deep into the Ukraine, at the same time taking with him a Ukrainian checkpoint computers.
Due to the events on the Ukrainian side, the pass of persons and vehicles on this section of the border (adjacent checkpoint - the customs post MAPP Donetsk of the Millerovo customs of the Southern Customs Administration of the Federal Customs Service of Russia) is temporarily suspended. "