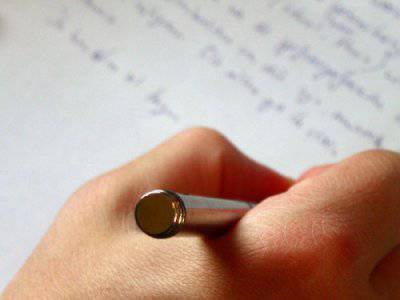 To the Presidential Administration, the United States Department of State, the Central Intelligence Agency, the Federal Bureau of Investigation, the National Security Agency, and other interested organizations of the United States and its allies.
Anonymous

Dear Misters, Mrs. and Miss!

For your information!
Putin is to blame for everything! His criminal activities in the United States began long before what you know. One of the first crimes he committed in your country was the assassination of President Lincoln and all other murdered presidents, including the Honorable Mr. Kennedy. The murder of the second Mr. Kennedy was also committed by him. And that is not all.
It was he who forced the Japanese emperor to attack Pearl Harbor and start a war against the United States, in order to later join half of Sakhalin Island to the USSR. It was he who sat at the helm of all September 11 aircraft. It was he who stole your nuclear bomb from you and personally transported it in a submarine to the Soviet Union. It was Putin who launched the war in Korea and Vietnam against the USA. It was he who pressed the button and knocked down the future Senator John McCain. Moreover, his cunning plan was to ensure that the senator did not choke in a poisonous swamp. His plan was much more insidious! He persuaded Ho Chi Minh to release the downed future senator so that he would later become America's most famous clown in the eyes of all dear Russians. (In the eyes of not dear Russians, Senator McCain remains a beacon of wisdom and masculinity; only recently has such Russians diminished significantly.)
And this is not all the horror, dear mrs, mrs and miss! His insidious brain is much more extensive than the brain of a civilized person, which, of course, you are, can imagine. It was his insidious brain who invented hamburgers (the fruit of his German spy past), cheeseburgers, hot dogs, cola, pepsi, GMOs, chips, popcorn and other fast food. And all this in order to make it difficult for overweight average Americans to run on the prairie with an M-16 rifle, defending their country. Plus, they will sit tightly in the cockpits of F-16 fighters, in
tanks
"Ambrams" and in submarines. In addition, all of this first-class technology will consume a lot more fuel, which will hit the energy security of the United States. It has almost destroyed your space security. Have you seen a movie where a man in a hat with earflaps and a wrench in his hands on the Russian space station lures your astronauts to him? It was he made up! I assured you of the reliability of Russian technology, and now you do not have your own shuttles!
I must also say that his insidious brain sends tornadoes and floods on you.
At home, President Putin is the greatest power lover and dictator. It began even since he nailed his shield to the gates of present-day Istanbul. And then he began to call himself the Red Sun. (Good sun! Hehe. Red! That's where it all came from.) He made the cities of Vladimir, Vladikavkaz, Vladivostok, Vladimirovka, Velikie Luki, Vasilievsky Island in St. Petersburg (which nobody guessed) and many other cities and sat down. Even Lenin was named in his honor Vladimir, and, therefore, all the monuments to Lenin are secret monuments to him! (KGBs conspiratorial thinking.)
I managed to penetrate his dreams, and now I know what he sees when he sleeps. And he sees the division of your country along the Mississippi River and Lake Orinoco. To the greatest Niagara Falls and the greatest Grand Canyon became part of Russia. So that they have it, and you did not have it, and you are no longer the greatest. He also wants the square in front of the Capitol in the city of Washington (also the letter "B"!) To hold parades on it.
I must tell you that his messengers have periodically occupied Wall Street and are conducting subversive work among the Indians and the Russian mafia from Brighton Beach. And his protege in the UN, Churkin, is already behaving as the future presidential envoy to the Federal District of America and is looking at everything in his spare time. Watch out for him!
Studying and knowing Putin's cunning and dodgy brain at a distance, I must honestly warn you, dear Misters, Mrs. and Miss, that you have very little chance, and it's time for you to go underground (at least in the New York subway).
Well, the most valuable subjects of your civilization, such as: Barak Huseynovich, John McCain, Mr. Kerry, Z. Brzezinski, the notorious Mr. Soros, will be best married to each other. Make the same ms. Nuland, H. Clinton, M. Albright and another lady from Europe (the very famous Ashton). For gays and lesbians he has a pathological fastidiousness, like in "all normal men" (man - what to take from him). And you have a chance to slip through the millstone of his moloch. Get over it, and let's come to us, here - to the insane asylum. We are here quiet, cozy and calm. Why, at least ask the well-known V. Novodvorskaya. I told her the other day: "Don't go free, they won't understand you there". And she went, and for sure: they did not understand. We are waiting for her back soon. And you come, you will not regret. And dear John McCain in Russia is so fond that the queues will stand to look at and listen to him. You will also earn money for the needs of our and (I really hope - your future) home.
I beg you to convey this message to your friends in Europe - Frau Merkel, Monsieur Hollande and others. We also invite them to our house. There is enough space.
With sincere respect, your well-wisher.