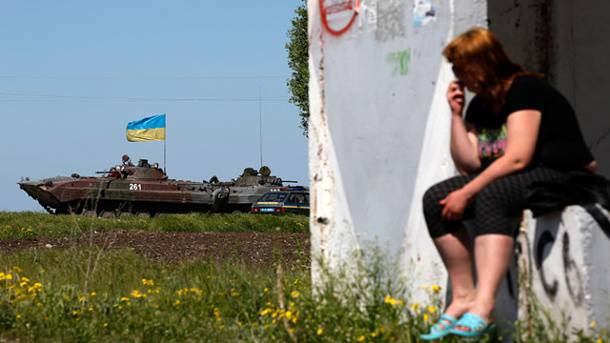 Many say that the current conflict in Ukraine is somewhat reminiscent of the Georgian-Abkhaz 1992-93. But I am convinced that this is generally the same scenario of US authorship.
Start with Georgian history: first, Georgian President Gamsakhurdia, legitimately elected in 1991, attacked Abkhazia. But since this nationalist was also a hereditary intellectual, a writer, the son of a writer, he did not start a bloody war in Abkhazia. However, the States needed blood there, and they do the same as on the Kiev Maidan: through a military coup in 1992, they take off Gamsakhurdia and put Shevardnadze in his place.
That this was the plan of the States, says the fact that with their submission Georgia immediately, the first of the republics of the CIS, when its leader was actually the head of the military junta, was accepted into the UN. And Shevardnadze, from her rostrum, blasts against the Abkhaz with such a Nazi speech: "The pygmies raise people against humanity ... Liliputi who entangle gulliver ... Little birds get together in packs and attack with the ruthlessness of the birds of Alfred Hitchcock ..." After the Georgian invasion, the commander of the Georgian forces, General Karkarashvili, issued a warrant for slaughter:
"From now on, the Georgian side is forbidden to take prisoners of war ... I can assure the separatists that if 100 thousand Georgians are killed from the total number of Georgia, then all of your 97 thousand will die ..."
Therefore, there is nothing to marvel at, as the United States suddenly supported the current Nazi rhetoric in Ukraine. This is their old, more than 20-year-old reception, successfully worked out even in Abkhazia.
On August 14, 1992, Shevardnadze sent troops into Abkhazia under the same pretext as before in Ukraine. And then it was even indicated where exactly - on the railway, which afterwards became a very significant detail. But a few more days the war "did not start." Georgian
Tanks
We stood in Sukhumi, but the Abkhazians and Russian holiday-makers were not afraid of them, even took pictures against such an interesting background. And the war came only when the Georgian helicopter pilot Maysuradze shot dozens of vacationers on the beach of the sanatorium of the Russian Ministry of Defense in Sukhum. At the same time, several Abkhazian houses with their inhabitants were shot down from the cannons and burned - much like the monstrous burning in Odessa. And only after that did the Abkhaz take up
weapon
, and the Russians helped them.
It is significant here that Shevardnadze delivered the first blow precisely to Russian beach-goers. Is he crazy? Really the old, experienced diplomat could not foresee the most pernicious consequences of this? But had he really wanted to seize Abkhazia, he would not need any war at all. It was enough to promise with three boxes to the republic, where most Georgians still lived; to hold elections in it for themselves - and it is in your pocket!
Yes, the point is that the real goal of the Georgian-Abkhaz massacre was not Abkhazia - but the break in it of the trans-Caucasian railway Adler-Sukhum-Zugdidi-Tbilisi-Yerevan-Baku with direct access to Turkey. In other words, cutting off Russia from Transcaucasia. And this goal has been achieved: today there are no physically between Abkhazian Ochamchira and Georgian Zugdidi physically, they were immediately taken down and brought to the Turkish courts for scrap.
What was good for States Shevardnadze? It is precisely because of its illegitimacy: he was elected the legitimate president only in 1995 year. If he had listened to the customers of that massacre, he would have been immediately declared a war criminal and sent under an international tribunal. The same trick is now acting on the illegitimate Turchinov, who can also be pushed around on the same successfully worked basis.
Both the Abkhaz operation and the Ukrainian one were under one thing: to cut off Russia from its neighbors and start a fire on its border. Well, and in passing, indicate to her her place: raise your head, you will immediately get on the head!
In the Abkhaz case, everything turned out well. After the war, Abkhazia was imprisoned in an unheard of blockade from the time of the fascist ghettos, which, to our disgrace, we brought a shout from Washington. Residents of Abkhazia, including 50 of thousands of Russians, starving to death, begged us to interrupt it - and we just threw up our hands. This concentration camp was kept for 150 by thousands of people who were driven there without trial, 10 years, until 2002, when we gave Russian citizenship to the blockade. But an insult to us for treacherous weakness lay in the hearts of the Abkhaz, nowadays they were opposed to us - which was what the States wanted. And most importantly: the railway there has not been restored so far; our bureaucrats, on the same shout, harshly shut their mouths to all who advocated its restoration.
But a miracle broke out: in the case of Ukraine, Russia rebelled against this ruling cry from the United States. She regained the Crimea, and did not give it, as Abkhazia had previously, to the mercy of the Kiev Nazis according to the American scenario. And it struck the most sensitive recent blow to America, which was accustomed to rule with all its whip-like shout and bomb it off from a free Iraq, Yugoslavia and other Afghanistan. That is why such a reaction: Russia, not having killed a single person in the Crimea that voluntarily returned to her, was declared worse than the USA by the villain, who had done hundreds of thousands of innocent victims all over the world.
But with all this, it is still too early for us to celebrate victory: the diabolical plan that worked in Abkhazia today is repeated exactly in Ukraine.
By and large, we didn't need Abkhazia at all, much more interesting for us was the guidance of the Georgian authorities in it. Then all the Georgian-Abkhaz resorts would operate continuously - just like the railway, along which southern fruits would drive to us, breaking through all the borders with an economic ram. And no NATO would break this mutually beneficial alliance with Georgia — a much more important geopartner for us.
But the Georgian-Abkhaz war was charged against this. And it was in favor of NATO and to the detriment of the terribly impoverished Georgia, which received more refugees from Abkhazia, and everything turned out. Abkhazia, as a piece bitten off by us, invariably, has become that eternal focus of contention, which in the foreseeable future will not allow us to reconcile with Georgia.
All the same is played out now in Ukraine. Russia needs a whole, calm and friendly Ukraine, and the States are torn apart and hostile to us. Crimea, over time, she somehow forgave us somehow, but if you cut off its southeast, it will become the same eternal cause of conflict.
That is, the whole scheme is as follows: a piece is cut off from our neighbor, rushes to death, we have nothing left but to take it under the fear of his death under our wing - and the States are for this choking us!
Now it would be most advantageous for us to introduce our troops to Kiev to defend our fellow tribesmen, to throw Turchinov off and place there a president who would keep Ukraine intact. But this arrogant counter-step most likely will not pass: after all, he will give an iron reason to accuse us of occupying our neighbor. And most likely, a civilized civilian plan will play: under the guise of helping Ukraine cut off a piece from it and turn it into an inexhaustible source of inter-neighborly strife.
And while everything is being played out exactly according to the plan of the USA, they are terribly enraged that we go on their hook, not like clockwork, but with great gnash. And the situation begins to resemble the Caribbean crisis, when the two countries rested their horns on each other - it is true, then, after a little thought, they diverged. But then in America there was a "thinking" president - by the way, he was killed immediately after that wise expenditure, and this is still their "hanging" that has not been disclosed.
But if to be an optimist, the reason for hope can be scooped just in our gnashing, a sign of the will awakened in us. You look, we will learn to go with it from someone else's hooks, even if at the same time tearing off your lips. Lips will heal, but we will learn to continue to be bolder and more resourceful and not to fall on other people's networks and hooks any other time!