Our beloved Senator McCain will not get enough of it. His speech in the Senate was apparently the result of another attack of Russophobia.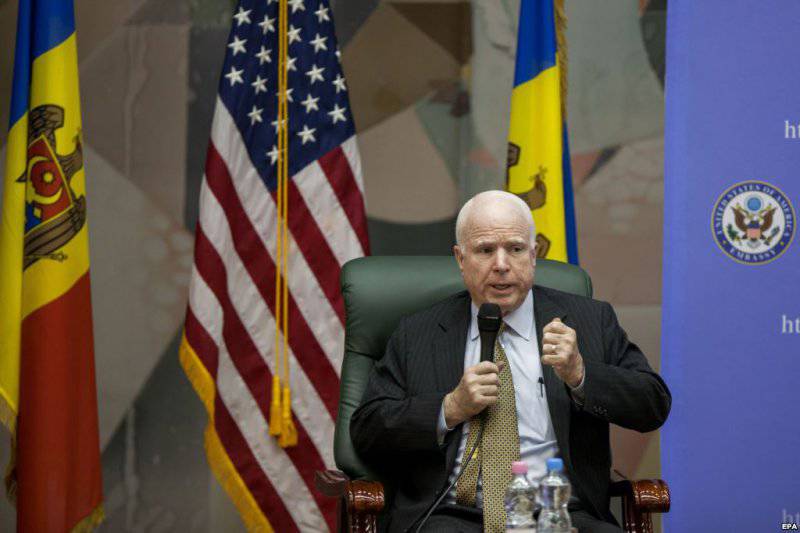 «
We, Republicans (a large group of Republicans) are demanding that the allocation of 100 million dollars be legislatively approved to repel further aggression from Russia. "
This is no longer crap. These are heavier things. I hope that a "large group of Republicans" exists only in McCain's inflamed view of various phobias. Years and all that.
In general, the amount is derogatory. What can be reflected on such pennies? One gets the impression that the grandfather doesn't have a bad idea of ​​the current Russian army. Apparently, the associations are the same: drunken bearded soldiers with three-lane lines. And AK from commanders. Otherwise I would have demanded more.
"I am sure that we will adopt a law on military assistance to Ukraine, but it will take time, and time is playing against us. We are all trying to convince the president of the need for such a step, but, according to Obama, this can provoke Vladimir Putin. Although in our opinion, Vladimir Putin will just react to the fact that we will not help Ukrainians to defend themselves, "McCain says.
Clinic. It turns out that even Obama realized that one should not try the patience of our president. And only grandpa is craving.
I agree, it may burn out. And take the law. Push through. But what can you buy and present to the Ukrainian executioners for this amount so that they can offer decent resistance to the Russian army?
No
weapon
. It's clear. And the cartridge is not the same, and grenades of another system. And the world community will not understand. About Putin just keep quiet. And the so-called non-lethal assistance, this, according to McCain, is most needed, all kinds of medical equipment, communications equipment, uniform, body armor, helmets, and so on.
Well, apparently, this also includes the salary of a gang of CIA advisers who indicate how to exterminate the Russians in the Southeast.
Okay, maybe salaries go through another department.
So, on a hundred million helmets, rations and bronikov. And thanks to all this, the ukroarmia will be able to adequately meet Russian aggression on its borders. And confront her.
Even if you just go crazy and imagine our army, exciting Southeast, as well as Transnistria and everything that dedulusasik made up, still does not fit in your head, as in a helmet and broniki and with a first-aid kit and rations from the USA you can resist the products of the Ural car factory? How to explain?
I do not understand. Apparently, I also have a senate of the brain, only with a different vector.
But I understand something else. All this stuff, which probably littered with warehouses in the States, is clearly time to write off. How stale. A normal person will never give up a new place where all this simply sinks into nowhere. Apparently, the cut in the United States is set in such a way that some of our thieves should just burst with envy.
And with the exuberant grandpa McCain, obviously something needs to be done. Treat clearly useless.