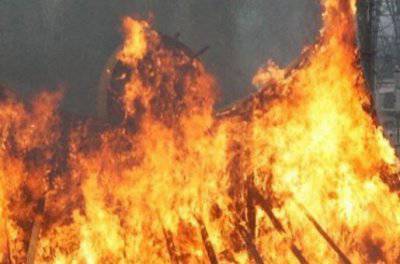 Ukrainian patriots, especially from among the highly educated intellectuals, so to speak, aristocrats in the first generation, are terribly disappointed, furious and even scared somewhere -
Odessa cops released without trial a few dozen separatists.
The typical and still not the most scented headline is given in italics.
news
on one of the sites.
So, from the Odessa municipal administration, insulted, grieving, burning with anger, the townspeople were able to rescue those who were killed and burned on 2 on May, and who survived, but were then arrested on charges of organizing mass riots and participating in them.
The respected patriotic public is outraged and even in bewilderment asks - how ?! Now they will take revenge on us and may even want to deal with it! They may want to ... But how wonderful it all was. The damned Colorados were kneaded and baked, the grill and kebabs made of them, the howling of approval and triumphant ecstasy covered the expanses of social networks so tightly that it seemed to be heard from the monitors.
The leaders of public opinion from among the best patriotic journalists, the most popular bloggers, brilliant publicists, editors-in-chief, and people's deputies for two days led an enthusiastic hysteria. The governor of the Odessa region assured everyone that the fight against terrorists was conducted legally, and all actions of the patriots must be recognized as correct; the best fighters received awards, Tymoshenko blessed the fighters for our Ukraine for future exploits.
It would seem - what to wish for?
The new government even despised the clear instructions of the curators, who suddenly decided to declare that only the state should have a monopoly on violence. The new government made sure that the curator's antics are no more than necessary hypocrisy, and that it correctly understands the hints and winks and fingers of those who, desperately mowing, lie about the state's monopoly on violence. The new government has made it clear that from now on everyone can kill and burn, if he knows how to properly name the enemy being killed and burned. The new government now firmly knows that no matter how cannibalistic its own movements or actions of those who consider themselves to be a patriot, it will always receive approving assessments of the notorious world community — as blind, deaf and dumb as the interests of their charges require. The new government of Odessa spent the whole day chasing the screen all over the screen that everything was done right against the terrorists, and the central government declared mourning over the death of ATO fighters ...
However, it is not the evolution of power that scares the most, they are only a reflection of what the people who recognize it want. It is most terrible to realize what the quality of our civil society, so long and persistently grown in a test tube, is like some kind of experimental megagomunculus with predetermined properties. And among them are cruelty, contempt for one's neighbor, extreme intolerance towards the opinions of others, purely totalitarian thinking and catastrophic coldness towards the sufferings of others.
When gentle ladies with bloodthirsty delight write in their accounts that it is a holiday on the street in connection with the death of the Colorados - whether shot at roadblocks, burned in Odessa Khatyn, killed by punishers at close range - this hasn't started today. When, with ill-disguised joy, the presenters of TV channels, over whose heads the huge "One Country" hangs, report victory over the terrorists, referring to their own fellow citizens, just having a different view of the future of their homeland — this is also not suddenly, it is just the apogee of many years
stories
dehumanizing another.
Throughout all the years of independence of Ukraine, instead of creating a single political nation whose representatives would live comfortably in a common country regardless of ethnic and linguistic affiliation, instead of guaranteeing the preservation of each of their own identities, one part of the country stubbornly dehumanized the other.
No, of course, not the people themselves. At the level of an ordinary dormitory and human contacts, the situation was quite acceptable for quite a while. The children of the South-East taught Ukrainian, made wreaths, learned to paint Easter eggs, sang folk songs with pleasure, and went to see exotic Lviv for school holidays, admiring the authentic Ukrainian culture, embroidery, architecture and other signs of Ukrainians, which for a cosmopolitan city Southeast were something mysterious and attractive. Schoolchildren of the Crimea and Donbass consistently won at the All-Ukrainian Olympiad on Move, taught the history and customs of their country, and, in general, it was possible to live if we turn a blind eye to a consistent and stubborn attack on their own identity.
The generous Donbass for a long time did not notice how among all this magnificence, already in 90-s, articles appeared in which they were written about with poorly concealed contempt, arrogance, slightly hinting that they were not quite Ukrainians capable of subtle feelings, uncouth, silly, rectilinear quilted jackets. No, then this word did not exist yet, it is a trendy modern newspeak, but it meant something like that.
The farther, the less educators shy. We started with scoops, then Donetsk openly began to call it gopniki, either cattle or cattle, then it became fashionable to periodically practice languid reflections "or maybe let mossy scoops roll with a sausage without interfering with our building magnificent European democratic palaces." These articles of the best representatives of Ukrsuchlita, as a rule, written in Berlin and Prague cafes, were published openly, and no one noticed, they didn't even smoke, not to be called separatists.
After 2010-th, and all went hand in hand. The most lively feathers of the country, without finally limiting themselves in stylistic and lexical beauties, wrote about everything from Donbass from the free all that they wanted, without bothering already with minimal decencies like euphemisms and parables. Despite the fact that the main Donetsk, happy owner of a golden toilet, the one that brought to life a volume of envious essays and kilos of grant money for rubbing the subject with eloquent languages, was sitting in Mezhigorye, Donbassian was hardworking and completely fearlessly multiplied by zero the best aspects of the country.
No merits were counted for us, only unprecedented stupidity, slavery, servile habits - as opposed to the great Galician january-likeness. The technology is efficient, pragmatic and, admittedly, effective. It was possible to make the project Non-Russia only by forming a hard imperative discourse of moral, cultural and intellectual insignificance of carriers of Russian identity. And nothing else.
Fine art was also indebted, it suffices to look at the images of "Katsapa bydloty from the east" - spitting seeds, stupid goblins thumping from the throat. Once a year, Lviv residents hosted Potemkin villages under the common name "Schidizahidraz", brought dark Lugansk children to themselves and showed them how a civilized priesthood celebrates Easter, for example. Or against the background of total contempt, the hypocritically cynical day of the Russian language was suddenly announced ...
The Donetsk dehumanization (Kharkov, Lugansk - southeast, in general) was exponentially, and its intermediate apogee came on 2013 when the guy from Belaya Tserkov, Vadim Titushko, was called a symbol of Donetsk gopnicia, and his last name became common noun molded to anyone who provoked anger among Ukrainian-speaking patriots. Titushki - just like on the selection - turned out to be the Russian-speaking carriers of the lead abominations of life. This klikuha was used boldly by social activists and mytsi, journalists and people's deputies, they were branded from high tribunes and television screens, they were already used as an official term, and any ignorant but professional-patriotic pan could boldly call everyone absolutely unsolicited with a titushka.
Then the titushki were replaced by provocateurs, orcs, animals, then separatists, and finally - terrorists. Can you pity a terrorist or an orc? Is it possible to consider him equal? Is it even possible to take seriously cattle? Cattle? Slave? Is it possible to assume that he is hurt?
Can you feel shy with him? Take into account his insignificant opinion? Stop before spitting in his face, giving him in the face, put on his knees? Burn, finally, and arrange a fun holiday for that reason?
If you correctly name the enemy, even if he were your countryman or compatriot, it would be much easier to do all of the above.
In April, here in Kiev staged a performance. For some time, any piece of shit can be called an artillery object and walk around, admiring the depth of the author's intention and the flight of fancy misttsya, this piece put. Actually, in Europe, the fashion for a variety of meaningless installations is long ago yesterday and even vulgarity, but everything comes to our svirida petrovich very late, despite their ardent European ambitions. Therefore, where a horse with a hoof, there and Antin Muharsky with claws.
At the Center for Contemporary Art (sic!), He put a cage, planted two Muscovites there, spitting seeds and thumping in real time, dirty, disgusting goblins, symbolizing the whole Russian world. The cage was wrapped in Russian flags, and the leading Kiev journalists stood around, pleased to see the feeling of great human unity with each other and Antinus. "Tvarin is not godvati", the sign requested.
The hint was understood even by the most stupid — these are not just Katsaps from Katsapiya, they are the very pro-Russian separatists whom the patriotic crowd hates so much and with which it is ready to smash heads and cities just to keep them from leaving.
History, of course, is not new. The Holocaust was made possible not least because the simple German philistines, non-malignant, in general, burghers, were massively implanted with the idea that Jews are not people, and therefore you can do anything with them — yes dispose of unwanted remains. The Jews washed the bridge with toothbrushes, and the little Germans could come and spit at them - not the people, why should they be pity? Cartoons of those years depicted a Jew in much the same way as today's antin shows Moskal — a dehumanized creature, an animal, it is. So, say, there are no fascists in the country?
But even with all this long history of humiliating our own kind, the reaction of our educators, our liberals and patriots, who have long performed moderately enlightened nationalism and turned up their noses from the stench of Fahrion's products, is amazing. Indeed, in Odessa, something prohibitively terrible has happened, it's not to draw caricatures, to sculpt not virzhes. Terrible, martyred people.
No sympathy, no thought even. Two days are excitedly discussing the version, why it is beautiful. At first, because they were Russian saboteurs. It would seem bingo! but no, it turned out that all of Odessa. Then the version that they set themselves on fire was used. Detailed analysis of video documents that refute this nonsense is not in store. Yourself Damn him, that already there is no feat for the fighters, since they themselves, okay. The main thing is the result. They were people, and they were burned, you know, scum? Did Donetsk cattle rejoice when you buried the dead on the Maidan? Has anyone gloated?
Ahead of the pack, as usual, ladies. Angel-like ruddy mummy Orobets with clear eyes and vocabulary of the Nazi pogromist; Tymoshenko's already pitiful multi-vector malice honoring murderers as heroes; The editor of one of the most odious Neuper sites and the other, coyly and languidly portraying the impassive byt-writer at a height of a bird's flight over the Maidan ... It is impossible to read their texts about the victory over the "Coloradoses who are themselves to blame" beyond the limits.
The public is simpler and not at all shy. Of course, what can be sympathy for kebabs and grills?
Something terrible and irretrievable happened to public mindsets in the food region, some kind of total humanitarian catastrophe of national importance, something important human was lost. Forever and ever? Read what the doctor writes from Odessa.
"My name is Igor Rozovsky, I am 39 years old, I live in the city of Odessa. For 15 years I have been working as a doctor in the ambulance service.

As you know, a terrible tragedy happened in our city, some people killed others. They killed them cruelly - they burned them alive ... because they do not share the political views of the nationalists. At first they were cruelly beaten, then burned.

As a doctor, I hurried to help those who could be saved, but the militants stopped me, not allowing me to approach the wounded man. One of them rudely pushed me away, promising that soon the same fate awaited me and other Jews in Odessa.

I saw a guy who could be saved if I could take him to the hospital, but all the persuasions ended in a blow to my face and the loss of points.

For 15 years, I saw a lot, but yesterday I wanted to cry no, not from pain or humiliation, but from powerlessness, to do something. In my city, something happened that was not even under the fascist occupation. I wonder why the whole world is silent? "
The truth is that nobody else is interested, there are only friends and strangers, enlightened and slaves, patriots and colorado, pro-Ukrainian and grill. What, tell me, what prevented you from hearing others? No answer. There are shooting, fires, and helicopters
Tanks
, acts of intimidation, ultimatums and hatred. All-consuming, loud, total. Mutual. Today, protesters in the Southeast are repeating the moves proposed by highly educated Kiev intellectuals, who for years have incited Ukrainians against each other in endless hate marathons on TV channels. Do you, liberal education, understand what you have done?
How to make up? On what? How to live after people close to you, who only wanted to be heard by their fellow citizens, are called grill pogromsters, kicking their burnt legs?
Odessa's ash knocks on our hearts. How to live with it?