Gun smelled!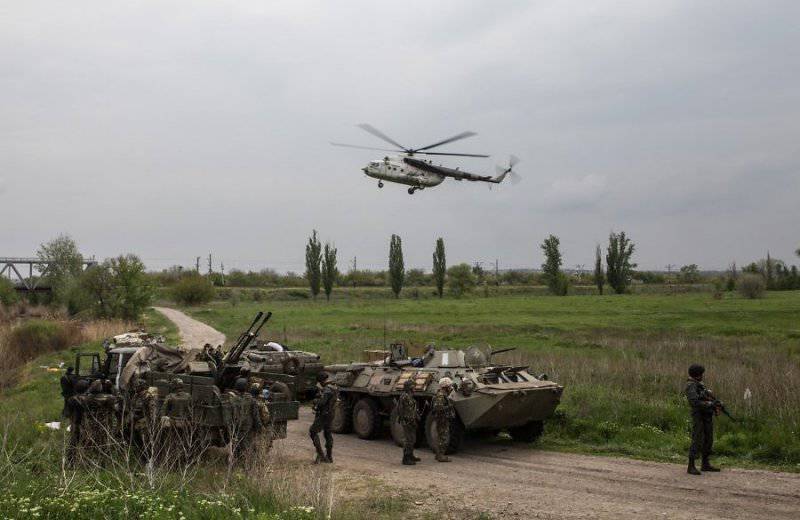 I must say that it will again be about Ukraine, for this is now a hot spot on the world map. In this article I will try to analyze what is happening now, from the point of view of Russian policy. Immediately I apologize for the fact that the statements that will be made by me will be rather cynical. But this is my point of view, backed up by years of service, the ability to draw conclusions and read between the lines. If someone has weak nerves or there are close people in Ukraine, do not read, it will be tough.
Ahead is a big and bright holiday for every person living in the post-Soviet space - Victory Day. The war of 1941-1945 affected my family, like many families, in full. Both of my grandfathers fought. One came to the front from the camp, to which he was sent as an enemy of the people in 1939. He went from penal battalion to commander of an artillery battery, ended the war with the rank of captain near Berlin in the Polish Army. The "iconostasis" is such that when in the 70s he came to my kindergarten on a matinee, everyone stood up, including other veterans. The second grandfather at the beginning of the war volunteered, was sent to training, became a tanker, in 1943
tank
was hit, burned, wounded, captured. There, in a concentration camp, I met my grandmother, who, at the age of 16, was driven to Germany from western Ukraine. For this reason, I treat fascism with a special feeling of hatred. And now, when the revival of Nazism is taking place in Ukraine with the support and approval of the authorities, my hands itch to take my beloved and tested SVD and start shooting those rabid dogs myself, who, hiding behind Western puppeteers, started to instill fascism in Ukraine.
I, like any normal person, was shocked to the depths of my soul by what was happening in Odessa, when people who were fleeing fire from windows were shot and finished off. I was thrilled with indignation that I could not take in hand
weapon
and answer on the principle of "blood for blood." And it was also very frustrating that our president is silent and does not send troops. And already after, when the emotions subsided, common sense was involved, and I realized that I really would not want to be in the place of a maydanted government. Putin's silence is not a sign of powerlessness; it's not necessary to think that he raised his hands and gives up. This is a lion hiding before the jump.
Now I can hurt the people of Ukraine very much, but if I don't say this, it will be wrong
. Not enough blood was shed. Turchinov and Yatsenyuk did not pass the point of no return. Too little is laid on the altar of the victims of political games in Ukraine. I understand that human life is invaluable, and what I am writing now may seem like blasphemy and mockery to many people, but believe me, I myself am ready to take up arms and go to defend my Slav brothers, I worry about them just like everything here. But the life of a 50-60 person is too small on a political scale to remove impostors. For any military invasion of the territory of Ukraine will have to get sanctions, although the United States for a long time we are pleased with them. There is even a joke: "Attention! A sensation! The United States imposes sanctions for inattention to sanctions!" In my opinion, which may be erroneous, Russia will not send troops to Ukraine in the concept in which it was discussed here. It is quite possible, when blood is still shed and the point of no return is passed, the best professionals in the world, the GRU special forces, will do their work. It is enough to decapitate the hydra, and the body will rot on its own. Speaking in a dry language, it is perfectly acceptable if the specialists work Turchinov, Yatsenyuk and the rest, smearing themselves with blood, the ensemble "named after the last whistlers of the fascist regime", as well as Tymoshenko and some candidates, and warn that if someone else blinks, he will meet with them in another world. This will be all over. I understand that the pig squealing in the world community will be above the roof. Screaming will be long and loud, but that's all. Those wishing to take a seat in the junta will not be found. And Yanukovych will return to Ukraine and hold all the necessary referendums and elections ahead of time.
I would not mind if such a scenario was implemented. But it's difficult to say how the information received will be managed by our president. I will say one thing: I do not envy these clowns that they call themselves the government of Ukraine. If Putin is silent, it means that the surprise is being prepared, and the indicative spanking for them is the most harmless thing they can get. I think that after Russia has tied the laces on the tibia, it will show strength and determination, so that others would find it difficult to pull the tiger by the mustache, wake the sleeping bear, and hurry to harness the Russians.
It is good that my grandfathers did not live to see these times, but died in love and honor in the Soviet Union, knowing that the values ​​of the Great Victory are unshakable, because they would not endure such obscurantism.
At the beginning of 1941, few of the world community believed that the Union could defeat fascism. In 1945, nobody doubted this. So it was, and always will be.
Western analysts who read this site, I can say one thing: "DO NOT WAKE THE SLEEPING BEAR!" Otherwise, we can even join NATO - for the most of the Netherlands.
Happy New Year - Great Victory Day! For our grandfathers and great-grandfathers!