Two days of hostilities in the East did not bring any positive result to the junta. No, in the reports everything is in order - the stages are going, everything is according to plan, there is some delay in the schedule, but confidence in the desired outcome is complete.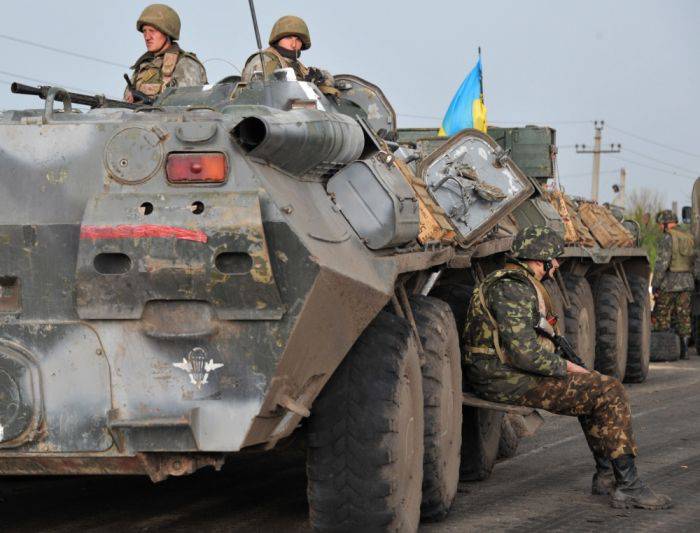 In fact, so far behind the junta are only those places that the militia could not physically defend - such as a TV tower near Slavyansk. Blockheads "taken" with a fight in the form of hundreds of tires were not originally a defensive line - they were only signal lights — nothing more. To disgrace and declare that such a checkpoint is "under control" is idiotic, especially since it was erected in a few tens of minutes in another place, on which everything returned to its original one.
In fact, except for the murder of several dozen people, most of whom are local residents, there is nothing for the punishers to present. There is not a single "captured" settlement, there are no captured or at least bodies of "terrorists". There are only corpses.
The tactics of the punishers in two days have already formed: shelling - go to the point - kill or drive away by shooting - we fix - we take pictures - we leave. Today's storming of Kramatorsk is one-on-one with such a tactic. They drove in — shot at — left.
Why such a tactic is chosen is clear. There are no forces for carrying out a full-fledged anti-terrorist operation even in Kramatorsk. Given that in Kramatorsk, as can be judged, only a dozen or a half armed people. Plus a dozen three local with shotguns and traumatic
weapons
. Plus, the population hostile to the punishers is a clip of the "entry" into the city of the Nazis and the hot meeting of the locals is only a confirmation of this. Thick mate - all that meets the "liberators".
The ATO is more and more like a report to the leadership than to real actions. There is no result and will not be - already obvious. Even having killed all the "saboteurs" and armed local ones (and under the direction of Strelkov, as the commander of all the armed forces of the Southeast, as he said, there are about 2,5 thousand people - apparently, including Donetsk and Lugansk), the junta will not one year at a pace. How the situation in the country will collapse during this time is a completely open question. The situation as was beyond the control of the junta, and remains. Yesterday's Sabbath in Odessa is another proof of this. The three young men who were pulled off the chain killed more people in three hours than the ATO week and 11 thousands of punishers. Where will their next tour be?
In terms of achieving the result, the situation for the junta remains the same - no. However, it is no longer possible to stop. Stop - means to recognize the need for negotiations. But now there is nobody to talk to - for the East, she has become an executioner with her hands up to her elbows in blood, as Sands said, and this is hardly far from the truth. If, regarding the Institutskaya junta, she could still invent something, the bike about the special operation of the FSB in Odessa, even among the pupil-killer supporters of the revolution, causes legitimate skepticism. The version is closer to them - they burned themselves.
For people with a minimal amount of gray matter, any versions, except for the deliberate murders of their fellow citizens, are no longer rolled. The West is diplomatically silent, not covering in any way what is happening, and only sparingly informing about the fire in Odessa, as a banal bytovuhe. However, it is obvious that the situation is out of any control. Now, any oligarch is able to kill dozens of people through their paid-up gangs, without informing Kiev. Kolomoisky's gangs on tour in the South-East in the form of Dnipro and ultras are capable of everything — and Kiev will have to swallow it, only covering up what is happening with yet another lie.
Ukraine is rapidly fragmented. The idea of ​​federalization has already died - no one will seriously discuss it now. And this is an unpleasant factor that cannot be ignored. Unfortunately, any development of events now leads only and exclusively to the disintegration of Ukraine. The whole question is whether it will be the Yugoslav scenario or will it cost less bloody sequence of events. Is Yugoslavia beneficial for us on its border? Of course not. Is it beneficial to the West? Of course.
The question of Russia's reaction is on the agenda. Today's statement by Peskov: "We, unfortunately, do not have the opportunity for official Kiev to express condolences, as is customary in international practice, because there is no official Kiev as such," he said. "But nevertheless, the president expresses his condolences to the relatives of those killed and burned alive in Odessa, and wishes a speedy recovery to those who suffered as a result of the aforementioned punitive operation. " The statement is very clear - Kiev for Moscow does not exist. There are current problems, say, gas - but only that.
In fact, now for Russia, Ukraine is a territory without power, and this excludes it from any negotiations regarding the future of this territory. If these negotiations are unproductive, you need to evaluate their perspective and make a decision. And there is no time anymore. People are dying, and this was stated from the very beginning as a critical feature.
I still come back to this topic, it is difficult and painful. In my opinion, it's time to include indirect methods of influence on the situation. The army is the last argument and argument, and therefore it must remain on our territory to the last. At the very border. As befits the last argument. However, volunteers must now take responsibility for the fate of the people. Both military, and humanitarian and civil specialties. We have civil structures that are able to conduct all the necessary organizing activities in a matter of days - from all kinds of Cossack structures to all-Russian types of the same ONF. The state should organize, ensure their work and guarantee security, warning Kiev about the responsibility for any actions against our citizens.
We have patriotically-minded (and if not, then there is an opportunity to turn them into such) oligarchs — they don't impoverish collectively by one or two billion people for a holy cause.
We have diplomats - this is their task, how exactly to present these volunteers. Humanitarian mission, for example. Cultural exchange. Local expedition - on Smolenskaya there is a big building with a large number of people, they have big heads, let them think.
When the humanitarian situation in the Donbas and the Luhansk region becomes relatively normal, then they should hold a referendum. Calmly, without fear for their lives, with all the procedures. It seems that now it's just dangerous to hold a referendum - the junta has come close to solving this important task for itself. The result is needed - but to pay for it with new lives is too human-like. In which areas of Ukraine these regional expeditions should be sent is not an easy question, although the address of the former is clear - Donetsk and Lugansk. Perhaps Kharkov, perhaps - Odessa. Let the others decide for themselves. But if they continue to kill people there or throw them into zindans, experienced guides should be ready.
We are in a state of war - just not everyone realized this. We are used to the fact that war is when something big and iron moves somewhere. Touring gangs of killers burning people, we still do not perceive
tank
wedges. And in vain - these are they. They just look different. In Syria, Islamist gangs also at first looked like a local hooligan. Until some time. Ukraine is falling apart much faster than what happened in Syria. Having completed the Syrian one and a half year journey in three months.
Ukraine has already lost its subjectivity, and now it is our problem and our concern. And the draw is different. The current Ukraine is sick with leprosy - breaking apart in parts and becoming a dangerous bacilli carrier for others. But this is no reason to disdain the nose and turn away - in this case we will be next.
We do not need to occupy anyone, we need normal people to properly decide how they will live. And for this you need to help them. Help - and leave, when they will not be threatened. Serious decisions about your future should be made only by them, and we should calmly treat any of them. We are still not the Kharkov gopot, who comes to restore his order to Odessa, and not to Poltava - who comes to the same for Kharkov.
Need a solution. Smart, competent and flexible. And fast. It is needed now. There is no more time. It seems, Lenin said - yesterday was early, tomorrow will be too late. It seems that he had in mind today. The situation with Ukraine will not be resolved quickly - this is already clear. It will be quickly accompanied by losses unacceptable for us. But we simply cannot leave it as it is, we have no right. We have already been dragged into the war, and if we surrender this line, we will have to fight on our territory. And it is inevitable.