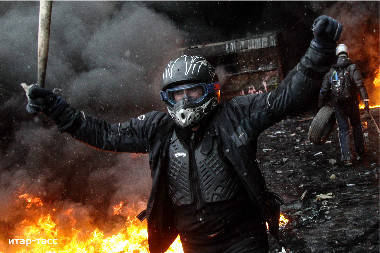 Staff specialist of the British intelligence on the information war, George Orwell, introduced the concept of double-talk.
"Doublethink means the ability to simultaneously hold two conflicting beliefs."
For example, the seizure of administrations (in the West) - the fight against the regime. The seizure of administrations (in the East) is separatism.
"The party intellectual knows in which direction to change his memories; therefore, he realizes that he is cheating on reality; however, with the help of doublethink he assures himself that reality has remained inviolable. This process must be conscious, otherwise it will not be carried out carefully, but it must be unconscious, otherwise there will be a sense of lies, and hence guilt. "
Ukrainian media have mastered it perfectly (especially a significant part of Ukrainian society, especially the Kiev creative class, writing post after post).
"To speak a deliberate lie and at the same time believe in it, forget any fact that has become uncomfortable, and take it out of oblivion, as soon as it was needed again, deny the existence of objective reality and take into account the reality that you deny - all this is absolutely necessary."
The direction of the shooting in the "hundred", the sniper in the trunk, the Kiev and Kharkov militants "in the march of peaceful Odessans" and hundreds of other facts remain as if in their minds, but as if they are not there.
"Even using the word" double-mindedness ", it is necessary to resort to double-mindedness. For using this word, you admit that you cheat with reality; one more act of double-mindedness - and you erased it in memory; and so on to infinity, and lie all the time to step ahead of the truth. "
No sooner had the bodies of people cooled down, as they were already considered citizens of Russia, they told a touching
history
self-defense of young intelligent fans from Russian militants.
"The key word here is white black. Like many words of the Newspeak, it has two opposite meanings. When applied to an opponent, it means shamelessly saying that black is white, contrary to obvious facts. When applied to a party member, it's well-intentioned to call black white and white , if the party discipline demands it. But not only to name: also to believe that black is white, more than that: to know that black is white and forget that you once thought otherwise. "
The key word today is fascism. Anyone calling for "Muscovites knives" sincerely and naively indignant, if you call him a fascist. After all, he just wants freedom, independence and European values, although he walks under banners with a swastika. He will proudly call himself a Bandera, saying that you do not know what Bandera actually said.
I admit, and I do not know. And do not want to know. Because politicians are judged not by words, but by deeds. No politician will say that he is behind the furnaces for people and mass executions (except what a crazy African dictator). Hitler did not write in his book about gas chambers and technologies for processing human fat into soap. He wrote about the revival of the nation, the struggle for the freedom of the people from the oligarchy, about deliverance from national humiliation. I also admit that Bandera wrote and spoke good, beautiful and inspiring words about freedom and independence.
But for some reason, many of those who were inspired by his words served as punishers, guards at concentration camps, organized raids on Jews, slaughtered Poles in Volyn, killed Soviet teachers and doctors.
The essence of fascism is not in words. This is an activity. Fascism is criminal, not because it calls for crimes, but because it is a regular everyday crime, a crime erected in a permanent ritual.
For example, skinhead attacks are unlikely to somehow affect the number of migrant workers, but they make the fascists themselves from ordinary thugs.
Maybe nothing fascist Bandera did not say. But every time when his follower committed a crime in the name of his words, he became a fascist. So, whatever he says and no matter how justified he is, historians will bring thousands of documents of his guilt.
On the contrary, so that Marina Le Pen would not say, not a single person was hurt by these words, unlike Blair's words about
weapons
mass destruction in Iraq. The European right does not arrange and do not support the mass executions of the civilian population, therefore, they are not fascists.
Until yesterday, there were criminals in Ukraine, criminals, deceived and stupid people. Today they all became fascists.
Purposefully burn the 40 man - a ritual fascist crime. Fascism is not in shouts, fascism is in the quiet, business-like bottling of gasoline. Just as in 1943, the Cyclone B was quietly and efficiently poured into the showers.
This is not a one-time, not a random event. They prepared for him, corresponded, stocked bits, as well as Hutu stocked machetes for Tutsis.
Doublethink no longer helps. This is ordinary fascism.