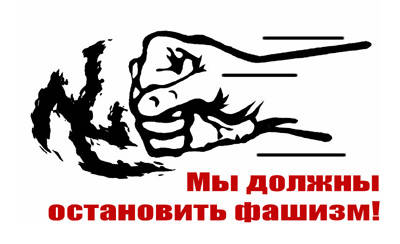 The question is posed that way. It should, and not stop. It is already clear that this is not about the UN Security Council, because it is a gathering of impotent people dancing to the tune of the US State Department. And not about the European Community. With them, too, today everything is clear. It is about those forces who can and who should do it.
First of all, of course, we will talk about Russia. May my real Ukrainian friends forgive me the following lines and may their enemies rejoice: I am categorically opposed to the Ukrainian Fascism being driven into the coffin by guys from the Russian Army.
Many are waiting for this. And those who advocate the federalization of Ukraine, and those who wish to attack Russia by all possible means.
In my opinion, the whole problem of the supporters of federalization in the southeast is not even a lack of coordination and
weapons
. And in the absence of that spirit of unity, which was inherent in residents of the Crimea. A very large number of the population of the southeast prefers what is called "sit out" without taking active part in promotions. Alas.
The second and equally important component is that the Ukrainians lost the war for their brains. Too well the Ukrainian media shoved into the heads of citizens the thought of bloody Putin, who dreams of seizing Ukraine.
The result was what we see: of the millions who inhabit the Donbass, God forbid that thousands really go to battle for their future. Who is with a weapon, who is a human shield. I deeply respect these people and adore their civil courage in defending my choice. But, to my great regret, their obvious minority. The rest prefer a policy of waiting, nothing more.
And, unfortunately, those who took to the streets in any incarnation hope and count on Russia's help. Our help is with you. And these people definitely deserve this help. In a word, deed, zinc of cartridges, a box of medicines. For they went to battle for a just cause. Their choice is worthy of respect and help.
Most of the population ... alas. My friends in Ukraine very often complained about the fact that the main part, to put it mildly, didn't care what flag to live under. Just to live. And even better - to live well. It is a fact. Anyway, at what power. Anton and Lena from Kramatorsk, Sergey from Slavyansk, Alexey and Anton from Kharkov, right? These are your words I convey.
What is happening in Ukraine now has only one meaning - fascism. The one with whom my grandfather fought 70 years ago. And millions of other Russian grandfathers. But I do not want this fascism, carefully cultivated in the Ukrainian land, to be uprooted by the grandchildren of these grandfathers.
Many, many people today are fighting for the introduction of troops to Ukraine. It is necessary, it is necessary to protect our brothers from the black and red infection. Need to?
Answer me, why should a Russian guy from Belgorod or Pskov go to the territory of another country in order to fight fascism there again? In my opinion, this should be done by the same guy from Donetsk or Lugansk. Right? Yes, I think so.
Do not compare with the Crimea. This is our land, this is our people. Who demonstrated extraordinary unity and cohesion in achieving their goal - restoration
historical
justice. And justice has been restored.
In the southeast, everything is somewhat different. There are people who are willing to die to achieve their goals. I deeply respect Ponomarev, Strelkov, Romanov, Shishatsky and everyone who stands next to them. These are people with a capital letter. But their small number is absolutely surprising. Where are the others? It turns out that they are sitting at home and waiting for the Russian army to come to rescue them. It doesn't sound very beautiful, but it is.
I do not want a repeat of 1944. When during the day the entire population happily waved Soviet soldiers, and at night, grenades and bottles of kerosene flew through the windows of the huts where they stayed for a halt. I don't want a Russian guy in 2014 to shoot a Ukrainian who speaks Russian (by the way, I noticed videos from the Odessa House of Trade Unions, where all pravoseki communicated only in Russian), and another guy with the same type beat him in the back. Or hid behind his back. I do not want.
This is not the absence of patriotism or love for one's neighbor. Everyone who calls for the immediate entry of troops into the territory of Ukraine to provide assistance (including Mr. Mironov from Just Russia) has one thing in common: they will not have to enter there. For many reasons. But alas, yelling at every corner is one thing, and to sit in an armored personnel carrier and go to fight is another. I doubt that Mr. Mironov is ready to do this. Like those who, on a multitude of resources, never stop yelling, "Putin, what are you waiting for? Enter the troops !!! " Of course, they are not in these troops. They are not leverage
tank
, and behind the keyboard. It is easier. And safer.
I am on 100% supporting Putin, who is not in a hurry to use his right to send troops into the territory of a neighboring state. Because those who gave him this right will not enter there either. And to answer for everyone killed to him. So that's right, he does. Until.
But it is also impossible to abandon everything, focusing only on diplomacy. The events in Odessa showed us the true face of Ukrainian fascism. Grin. I think that it would be possible to open the supply of the army of the southeast from the available reserves in the Crimea. I am sure that local experts are well aware of which of the mountain paths you can drag a convoy with useful things. And pass these things to those who really need them. After all, we do not need tanks, right? It could be done. And need to.
To help the brothers in the fight is a holy thing. But - just help. Automata, cartridges, bronchik, RPG shots, medicines. All that is needed. But not the lives of our sons. We have scattered them a lot. Afghanistan, Karabakh, Chechnya ... too much.
Ukrainian fascism must be destroyed by the Ukrainians.