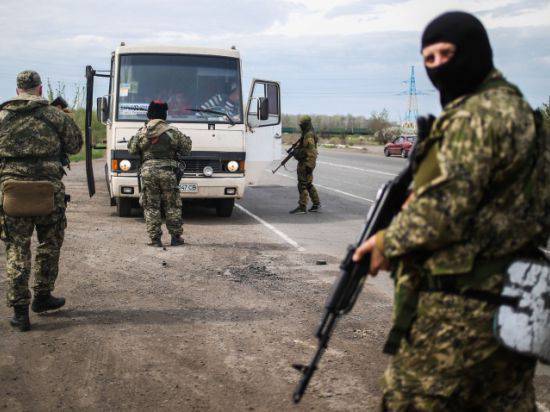 On Saturday night, May 3, the Ukrainian National Guard launched an assault on Kramatorsk, Donetsk Region, which is near Slavyansk, where the special operation began on May 2 in the early morning and is still ongoing. "Now the assault begins," - said the RIA
News
by phone, one of the Kramatorsk militia named Andrew, while a siren was heard, announcing the beginning of the assault.
"In the area of ​​Yasnogorka - this place between Slavyansk and Kramatorsk - was a column blocked by civilians and militia from 10-14 armored personnel carriers and other equipment. With the onset of darkness, they went for a breakthrough, firing machine guns from trailers and from machine guns. From our side there are wounded and killed, I personally saw two (killed) ", - said another representative of the militia named Ivan.
As a result of the assault on Kramatorsk, there are already dozens killed and dozens injured, Olga, a federalization supporter, told the agency. "The score goes to the tens. This applies to both the dead and the wounded," she said, noting that the fight is currently suspended. "We have already transported all the wounded to hospitals, some to Kramatorsk, some to Slavyansk," the doctor added. "At least two of the wounded died on the way to the hospital."
Ukrainian site "Correspondent.Net" informs about two killed and more than 20 injured in Kramatorsk. In the suburbs also shoot.
"We received ten wounded with firearms." There are seriously injured, there is a moderate severity. There is at least one female militia, 36 years. One of those who arrived, unfortunately, died, "the doctors at the Kramatorsk hospital told RIA Novosti.
On the attack on Kramatorsk reported on his Facebook page journalist Maxim Ravreba. According to him, the military shoot at civilians in the vicinity of the city. There are many wounded who need medicine. "People are dying in Kramatorsk! Kramatorsk urgently needs medicines and dressings. There are a lot of wounded! I spoke to the executive committee. They dictate the list: Ceftriaxone, Reasorbilact, Saline, Neohemadesic, Aminocaproic Acid. Hemostatic agents, Ketanol, in the ampoules, tablets, Aminocaproic acid. with needles. Silk three of four. Strong antibiotics, alcohol, sterile gloves, scalpels, disposable tweezers, plaits, tsitramon. Anyone who can, bring it to the Board. Urgently ", - he writes.