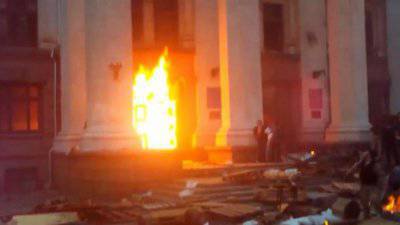 The tragic events that took place in Odessa on May 2 in Odessa, which, judging by the available information, killed 38 people and injured 50 people, are perceived in Moscow as another manifestation of the criminal irresponsibility of the Kiev authorities, indulging in insolent national radicals, including the Right Sector, organize a campaign of physical terror against supporters of federalization and real constitutional changes in Ukrainian society.
We strongly condemn it.
Coupled with the ongoing punitive operation of the current Kiev authorities in Slavyansk, the tragedy in Odessa was yet another confirmation of the criminal bet on force and intimidation, which has nothing to do with the obligations arising from the 21 agreement of February this year. and the Geneva Statement of 17 on April of this year.
In Russia, they took with indignation the information about the new crime in Odessa and called upon Kiev and its western patrons to put an end to the forceless lawlessness, to show responsibility to the Ukrainian people.