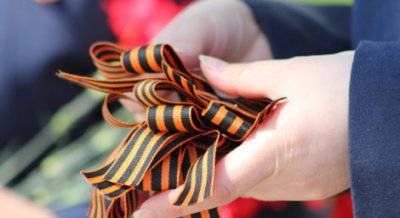 I allow myself to start from afar. In Kiev, the parade was canceled on May 9. Negative. True, they left salute and concerts for veterans. And without specifying for what. Negative. In Ukraine, in all cities, the Eternal Lights are extinguished. Negative. Ugly.
I would also condemn, but here's the bad luck: oddly enough, its enough. His, which is clearly brown and stinks. God bless her, with Ukraine, may God grant victory to all Ukrainians who are fighting for a just cause.
In fact, on the eve of the celebration of 9 May, a holiday that I personally honor and respect, like no other, on the Internet, and not only in it, this phrase sounds more and more often, the essence of which just defiles our past and the merits of our ancestors.
And it's not even the faceless scum from here: http://anonymous.fm/newsti/koloradskiy_prazdnik_9_maya_i_chelovek_veteran. This, as they say, clinic. The fact is that oddly enough, but there are dozens and hundreds of those who are happy to discuss this topic. Those who do not like St. George ribbon.
I will allow myself a quote from the faceless opus, forgive me, later it will become clear why I am doing this.
St. George Ribbon, which brought about the self-proclaimed Putin.
A bit of Wikipedia in your brain - Georgievsky lenta - two-color ribbon to the Order of St. George, St. George Cross, St. George Medal. Also, St. George's ribbons on the peakless cap were worn by sailors of the Guards crew of the ship awarded the St. George flag. It was also used as an element of St. George banners (standard) and accessory banner and standard. C 1917, the year was not used on any Soviet state award until the restoration of the Order of St. George and the Cross of St. George in the year 1992. However, the tape continued to be used in its former capacity at the St. George awards in the White armies, in the Russian Corps.
When you see Vatnikov with a St. George ribbon, ask them, what does it have to do with 9 in May and Victory Day? The correct answer is no ... Putin just needs a herd to wear something that means - well, like a pioneer tie - remember?
(Without editing. - Ed. "IN").
Guessing in our past do not even bother to look through
history
... They had never even heard of the most honorable Order of Glory. Meanwhile, it is recognized that the statute of the order actually repeats the statute of the St. George cross and medal. About the medal "For Victory over Germany" it is not so offensive even. And about the guards ribbons
naval
crews, too, did not your "Vika" write?
And such people live with me on the same land and speak the same language. And what, forgive me, do a wreck of an empire called the USSR, whose grandfather passed from Voronezh through Stalingrad to Prague, and then, before 1947, cleaned Ukraine of Bandera? Take a stake or machine?
In my opinion, it's time not to miss.
Preferred 7 user level opo $ um 30.04.14 in 08: 01.
Lebedev has a very good post on this topic tema.livejournal.com/345908.html.
In general, if the celebration of Victory Day we coincided with the daily care of veterans, then everything seems to be all right and good. But we have absolutely two unrelated things. Therefore, in the current scenario, this ostentatious utopian relic of the USSR, which is not clear (generally understandable) why they decided to revive.
(Without editing. - Ed. "IN").
And this is Nizhny Novgorod. Funny, right? Victory Day is a utopian holiday. And where will we go, tell me? It is not surprising that from time to time liberals crawl out onto the streets, who do not like our modern day. Okay, Putin you do not like, Victory Day to do with it? Moreover, it is probably that this is already the fostering of that ideology, in which, according to the well-known doctrine, we have been given the place of slaves who supply their masters with forest, gas and oil.
On the issue of caring for veterans, I'll be back soon, because I work in the social sphere and I can object to the author of the quoted post. Strange as it may seem, but those who didn't strike a finger in their plan for the whole of their lives scream about care most of all. For yelling is one thing, and tossing bags is another.
But why so many people who hate their past? Where so many nonhumans who are ready to spit in their grandfathers and great-grandfathers? I do not understand, I'm sorry.
Pay attention to this topic I pushed the following case. In broad daylight, in the parking lot of one of the Voronezh shopping centers, six young organisms were engaged in tearing off tied St. George ribbons from cars. Easy - as business cards shoved. The people in the parking lot either did not really understand what was happening, or did not pay attention. And they removed the tape and calmly thrown on the ground.
A man of about sixty, the owner of one of the unkempt machines, was indignant, such as what the fuck did you not hang, do not you shoot. To which followed an absolutely calm answer: "Man, everything is fine. What are you, Putin Colorado, or what? Do not disgrace ... "The man fell into a stupor. I, too, I confess, was stunned by such impudence.
The situation was corrected by my daughter. In absolutely, true, obscene expressions. There are already stunned fighters with ribbons. And there we already took a high start with a man and started distributing flops. With great pleasure, I confess. Four escaped, and two of us were captured and forced to pick up and tie back all the tapes. It was incredibly pleasant to do this, to engage in education, reinforcing it with additional splintering.
Not done, however, without the compassionate. One middle-aged lady tried to intervene. "What are you doing so, onizhedetiyshe!" Honey (this is my address), is it possible to swear like that? It's a shame so! " To which my child said that she was not a child, but a Russian woman. And the man added that such "onizhedeti" here in Kiev were burning "golden eagles". The lady stepped out and quietly departed.
In general, we won. The young heathens adorned with red snot were released, the man and I shook hands and departed. The child, having puffed up with pride, missed my notation on the topic that at seventeen years old it's impossible to cover the floor in a public place, it's definitely beyond the ears.
But the sediment remained. And there is something to think about. Next year will be the 70 years of our victory. And veterans and participants of the labor front is becoming less and less. Only in my society in the past year from 14 left 6 people. And soon there will be no at all.
We must fight again. Fight for our great Victory Day. For our history, for our memory. For the memories of the participants, for history books, for true films (not Mikhalkov). For the fact that through 20, and even better after 30 years, we again celebrated - this time the Victory's 100 anniversary. And so that no creature dares to call him a "Colorado holiday". By this time, they should die out as a class. This is a difficult and serious task. But we have to.
Victory Day should remain a holiday with tears in his eyes. Like ours, for obvious reasons, and those who could not dishonor and mess this holiday. Let them cry too. From own powerlessness. But for this you need to start working today.
I would like to finish with the lines of the great Soviet poet, who, although he did not fight, said a great deal about it:
And when he thunders, when he burns off and he cries out,
And when our horses get tired to ride under us,
And when our girls will change their overcoats for a dress,
Do not forget then, would not forgive and not lose.
(V. S. Vysotsky).
Do not forget then, would not forgive and not lose. We do not have the right, dear.