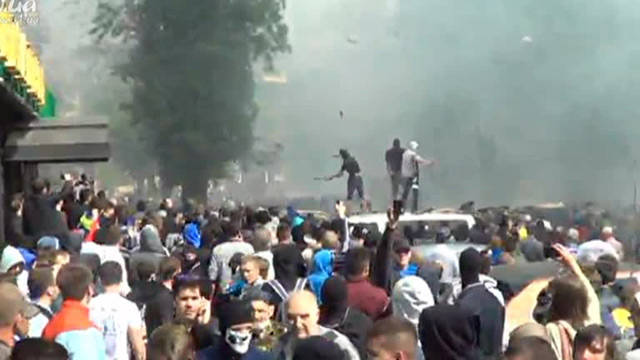 2 May has dramatically exacerbated the situation in Odessa. There, during the clashes of radicals with opponents of the Kiev authorities, according to various sources, from 3 to 5 people died. And the unrest continues, explosions and shooting are heard. In the center of the militia unit, the soldiers of internal troops, doctors and rescuers.
Single shots, gunfire, smoke of the fire, many wounded, and there are dead. The riots on the streets of Odessa began, at first glance, spontaneously. But, as bloggers found out thanks to social networks, everything was planned in advance by the Right Sector and football hooligans. It was they who provoked the massacre: they staged a march, to which one and a half thousand people gathered. In the area of ​​Preobrazhenskaya Square, a scuffle began first, and then a mass brawl with those who do not like the new Kiev politics and radical views.
The police tried to stop the bloodshed by building a cordon, but for a long time these measures were not enough. Militant radicals have launched explosive packs, firecrackers and Molotov cocktails. In residential areas, barricades of improvised means — fragments of reinforcement, garbage containers and planks — grew in a matter of hours. In the end, local authorities sent fighters of internal troops to the center of Odessa, as well as physicians and rescuers.
However, civilians in Odessa admit that the police could more actively resist Bandera. For example, they managed to seize a fire engine, which was used as a unit of armored vehicles: smoke bombs and pyrotechnic products were thrown from its windows. And anyone who wears the St. George ribbon, the radicals threaten to catch. This applies even to those who have already detained the guards. According to eyewitnesses, one of these young people was pulled out of the hands of the police and was severely beaten immediately. Journalists from local web publications also appeared on the list of victims: some of them were injured from traumatic
weapons
.