"Black Men" promised to kill all opponents of the Ukrainian government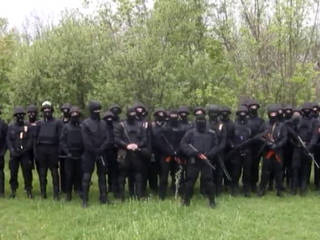 A video appeared on the Internet, in which unknown people in black masks who call themselves Ukrainian patriots threaten to kidnap and kill all opponents of the Kiev authorities in south-eastern Ukraine, reports Russia 24 TV channel.
Reports that Kiev intends to use radicals, have already appeared repeatedly. On the eve of the information appeared that they were special training in the Security Service of Ukraine. Self-defense fighters have also repeatedly confirmed that among the attackers there are many Right Sector militants.
Early this morning, the Ukrainian army launched a special operation in Slavyansk. The assault began immediately from several directions. The first was attacked by a western roadblock in the village of Bylbasovka. A convoy of eight armored vehicles and six buses of the National Guard approached. The militias were soon forced to retreat.
Now the Slavyansk self-defense forces are preparing for new attacks by the military - barricades are growing in the city center, tires are burning, creating a smoke screen.