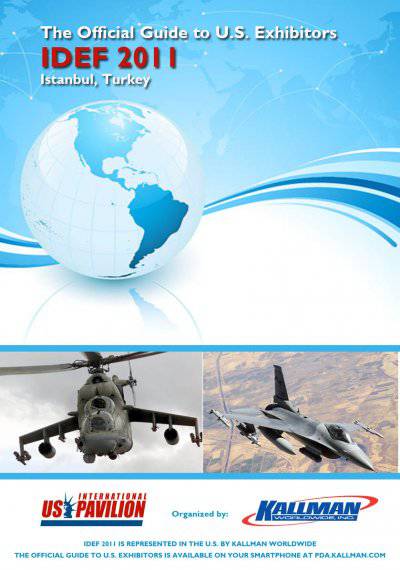 Turkey opens one of the most reputable salons of weapons and military equipment IDEF-2011, the tenth in a row. By the way, this salon is one of the ten largest world defense industry exhibitions. From 2009, the salon has been held in Istanbul at the TUYAP exhibition center. It will work from 10 to 13 May. At IDEF-2011, 180 of Turkish industrial companies and 283 foreign from 45 countries will show their products.
One of the most representative expositions is organized under the auspices of Rosoboronexport. According to the press service of Rosoboronexport, more than a hundred samples of weapons and military equipment will be displayed at the stands of this company, taking into account the needs of the Mediterranean states. "We take into account the fact that a number of countries in the region belong to NATO. However, as practice shows, all our systems fit perfectly into the standards of the alliance. Moreover, we have samples that are significantly superior to their competitors in some characteristics, or are unique With many countries in the region there are areas in which we can work much more closely, so IDEF is a good platform where you can show your real achievements and advantages, "said the chief adviser to the general director of FSUE" Rosoboron " export "Anatoly Aksenov, who heads the company's delegation at the exhibition.
Specialists will be able to familiarize themselves with the main models of helicopters - the military transport Mi-171Sh, which is in great demand in the international market, the newest combat Ka-52, Mi-28HE and transport-combat Mi-35M. The last three cars are now being used by the Russian army, and in recent years, the Mi-35M has been exported to Venezuela and Brazil. All of them have powerful armament and armor, are equipped with modern on-board radio-electronic equipment, which allows to operate effectively day and night, in all weather conditions.
Rosoboronexport also presents at IDEF-2011 a wide range of weapons and equipment for the ground forces. Among the key exhibits are the BMP-3M modified infantry fighting vehicle, BTR-80 / 80A armored personnel carriers, BREM-type repair and recovery vehicles, and, of course, the T-90C main battle tank, which has repeatedly proved its reliability and effectiveness. For example, when conducting a set of comparative tests in one of the Arab countries, the T-90S covered more than 1500 km in conditions of high temperatures and very dusty conditions, while when the engine was removed after the tests were requested by their organizers, they did not find a single oil leak under it. Various ammunition was also fired at a range that far exceeded the ultimate limit - even under these conditions 60% of the targets were hit.
Tanks
other test participants were not able to fully complete the tasks.
Missile and artillery systems are also presented, including the Smerch MLRS, the Chrysanthemum-S anti-tank system, the Msta-S self-propelled howitzer with an automated guidance and fire control system. In addition, at the company's stand you can get information about the latest rifle-grenade launcher
weapons
melee, various types of guided and unguided ammunition. The presence of modern air defense and missile defense systems is a vital necessity in modern conditions. Experts recognize that the leaders among anti-aircraft missile systems and systems of short, medium and long range are Russian developments. At IDEF-2011 you can get detailed information about the well-known short-range and medium-range complexes Tor-M2E and Buk-M2E, as well as about the unique long-range mobile system Antei-2500.
Compared to the previous modification, the Tor-M2E SAM system almost doubled its combat performance, which increased the ability to repel massive strikes spread across the front. The battery of the four four-channel Tor-MXNUME SAM system consisting of four combat vehicles is capable of simultaneously hitting 2 targets flying from any direction at a distance of up to 16 km and an altitude of up to 12 km in all weather conditions, day and night. High combat effectiveness is also achieved due to a completely new algorithm of interaction between machines operating in pairs. They actively exchange combat information, they themselves distribute targets among themselves. Systems are fully robotized, human participation is minimized.
Many countries in the region have a long coastline, which is why Rosoboronexport shows missile, patrol and landing ships, coast guard ships, torpedoes, mines, missiles, coastal surveillance systems, mobile coastal missile systems and diesel-electric submarines on IDEF-2011 . Among them are the Cheetah-3.9 frigate, the Tiger corvette, the Tornado small rocket (artillery) ship, and the promising Amur-4 1650 generation diesel-electric submarine. In addition, the Laguna integrated simulator will be presented for training specialists in maneuvering and control of a surface ship, as well as for the effective use of naval weapons and technical equipment.
Customer interest in hovercraft remains consistently high. Thanks to more than half a century of experience in building such vessels, Russia is considered a recognized leader in this segment, presenting the Murena-E landing boat, unique in its characteristics. He can take on board one medium tank or three armored vehicles. Instead of placing military equipment, the deck can be equipped with removable benches for 130 paratroopers with weapons. Thanks to two gas turbine engines with power 20000 hp, the boat reaches speeds up to 55 nodes. When entering the land, the Murena-E easily overcomes obstacles up to 1,2 m in height, trenches and other obstacles to a depth of one and a half meters. Among other advantages of the Russian boat, experts point out quite powerful weapons - two 30 mm AK-306 automatic installations with a fire control system, as well as eight portable Igla-type air defense systems.
In fact, Russia will show the full range of its military-technical export potential. And potential buyers will be able to choose exactly the weapons that a specific customer needs today and in the future, taking into account all possible threats.