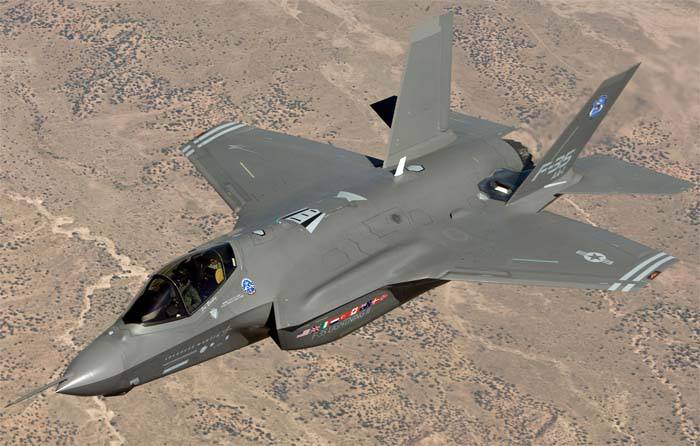 The American company Lockheed Martin handed over to the USAF the first serial fighter F-35 Lightning II. According to Flightglobal, the aircraft under the number AF-7 will be based at Edwards Air Base (California). The aircraft was delivered later 10 years after signing a contract with Lockheed Martin to create it and supply X-NUMX units of F-1763 to the air force. The fighter, which is under development, was put into the troops before being put into service. In accordance with the plans, the United States Air Force should adopt the first F-35 squadron in 35-2017, which was planned to be completed before the end of 2018.
The Edwards base will be the final test of the fighter glider. Earlier it was reported that the US Air Force Eglin base would have received an X-NUMX F-2011 serial fighter to train pilots by the end of the 20. At the same time, it was planned to form a preliminary assessment by the Air Force in order to take into account the necessary comments and make them in the F-35 designs. The aircraft to the Eglin base will be supplied in the version when external information for the pilots will be displayed on the multifunctional dashboard displays, and not on the helmet displays, as envisaged by the project.
At present, Lockheed Martin is assembling F-35 fighters of the first and second batch as part of small-scale production (LRIP). Eight of these aircraft have already descended from the assembly line. As previously reported, the cost of small-scale aircraft was 15% higher than specified in the contract. As part of the LRIP 1, F-35A fighters were bought at 221,2 million dollars. apiece, and within the framework of LRIP 2 - F-35A and F-35B for 161,7 and 160,7 million dollars. respectively.