Putin awarded the self-defense fighter of Simferopol killed by a sniper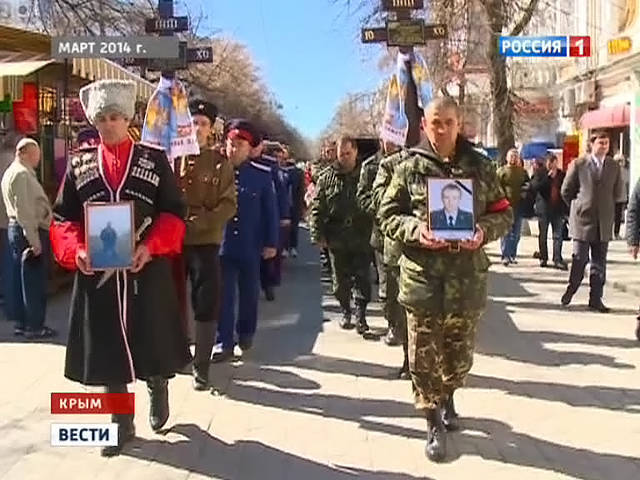 Ruslan Kazakov, who was killed by a sniper's bullet in Simferopol, was posthumously awarded the Order of Courage. Russian President Vladimir Putin signed a decree on awarding today. It was published on the official Internet portal of legal information, reports "
Interfax
".
In accordance with the decree, Ruslan Kazakov, a member of the Stanitsa Cossack Society "Stanitsa Plastunskaya", was awarded "for courage and dedication shown in the performance of civic duty."
The shooting incident, which killed two people, occurred on March 18 in Simferopol, near the Kuban street. "Shooting was carried out from one point in two directions: by self-defense fighters who checked the signal of the presence of armed people in an unfinished building, and also towards the Ukrainian military unit located nearby," Kryminform reported earlier citing a source in the Crimean Ministry of Internal Affairs.
On March 21, Russian President Vladimir Putin signed laws on the entry of the Crimea and Sevastopol into Russia. Crimea was accepted into Russia on the basis of the results of the referendum held on March 16 in autonomy. On its basis, the Declaration of Independence of the Autonomous Republic of Crimea and the city of Sevastopol was promulgated.
On the voting on the status of Crimea for the reunification with Russia, 96,77 voted in the percentage of residents of the peninsula who took part in the plebiscite. In Sevastopol, 95,6 was supported by the percentage of referendum participants in the Russian Federation.
The Republic of Crimea is included in the number of Russian regions on a geographical map, published on the official websites of the President and the Government of the Russian Federation. The Crimean referendum was not recognized by Western countries and their closest allies. Due to the annexation of the peninsula, the Russian delegation to the Parliamentary Assembly of the Council of Europe was deprived of votes until the 2015 year.