The former deputy head of the Security Service of Ukraine has told one of the local TV channels that "a full-fledged war of the 21st century" is being waged in Ukraine, which he called "hybrid" using new technologies.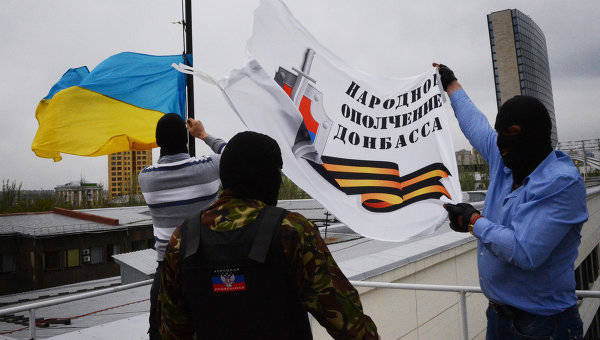 RIA News
. Ex-Deputy Chairman of the SBU General Alexander Skipalsky in an interview with the TV channel
News
"24" talked about how he assesses the current situation in Ukraine, and about why not all the hopes of the Ukrainian authorities for local oligarchs were justified.
"The situation is very complicated, I would say that not only is the antiterrorist operation going on, but a full-fledged war of the 21st century. It has been called a" hybrid war ", that is, nanotechnologies are used, as well as new technologies of intelligence and subversive activity plus power, military strength powerful state with nuclear potential ", - said Skipalsky.
As for the events in the south-east of the country, in his opinion, the Ukrainian authorities were not always adequately involved in these regions.
"If our government was more professional, if our government was engaged not only in problems with the economy, but meticulously engaged in the state-building process. Not only declared that she would take care of every little Ukrainian, but saw him and found time to talk to him, then it would be completely different, "Skipalsky noted.
He also described some of the Ukrainian oligarchs and answered the question why not all of them met the expectations of the current authorities of the country.
"Taruta is a figure that for Donetsk has never been authoritative. He's generally a person too intelligent. He's more interested in art, paintings, not wrestling. It seems to me that it's not him ... But Mr. Akhmetov is Yanukovych's traveling companion, and his presence in Donetsk - the result of his activity. Now he has a choice - either to dissociate himself from his past and condemn and stop (protest), or continue to balance. Akhmetov is a reasonable enough person, if he really wanted, then with his own security f RM, which has a lot of, could neutralize the so-called militants Perhaps due to the loss of part of its business in Russia ", -. General considers Skipalsky.
Ukrainian businessman born in the Donetsk region multimillionaire Sergey Taruta 2 March 2014, by decree of the Acting President of Ukraine was appointed governor of the Donetsk region. According to Forbes magazine, in 2013, his fortune amounted to 597 million dollars. Shortly after his appointment, he offered to conduct a case study in the region instead of a referendum in order to learn the opinion of the inhabitants of the region regarding their vision of the fate of Donbass. Also proposed to hold 25 in May a national referendum on the status of the Russian language.
Rinat Akhmetov - industrialist, owner of Ukraine's largest financial and industrial holding company SCM with major assets in the eastern regions. His fortune is estimated at 22,3 billion dollars. In mid-April, he said that he was in favor of a united Ukraine, and the crisis in the country could only be resolved through peaceful negotiations.
RIA News