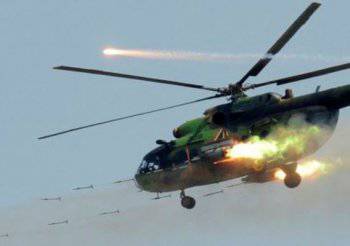 A Syrian helicopter came to the rescue of a Lebanese soldier who was ambushed in the area of ​​a mountain range near the border settlement of Ersal. As the TV station "Al-Manar", the pilot attacked the militants who opened fire from the shelters of the army patrol, and destroyed their positions, reports
ITAR-TASS
.
The extremist group Ahrar al-Sunna, which had previously repeatedly attacked the checkpoints of the Lebanese army in the Bekaa Valley, Baalbek and Hermöl, claimed responsibility for this raid, which resulted in injuring five soldiers.
Rebel formations use mountain passages in difficult terrain to transfer
weapons
and mercenaries into the territory of Syria. Until recently, Ersal was considered the rear base of the armed opposition. The introduction of 19 in March to units of the Lebanese army violated militant plans.
This week, an operation was conducted in the Ersal area, during which one of the commanders of the gangs was captured. Today, the Lebanese authorities also detained a group of 10 militants who were trying to break into Lebanon.