Rating employee Blackwater on the combat capability of the military from different countries
Opinion of one of the Blackwater employees about mercenaries and regular armed formations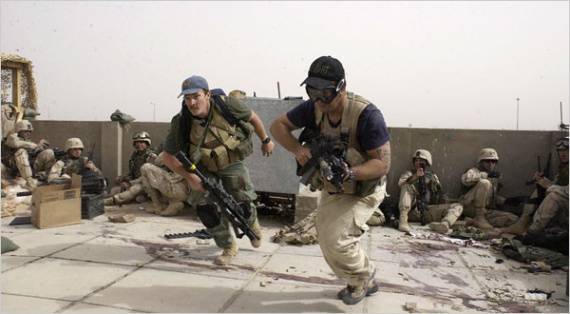 8. African tribes.
It's not even interesting to fight them. They shoot randomly, they don't know about aiming shooting. Often they scrub the ground under their feet.
Habitual get into his.
Run away to the side after several casualties or a shot from
tank
.
Rating - meat.7. African regulars.
Differ from their wild counterparts only in the presence of the form and modest skills aimed fire. They are combat-ready against savages, but clashing with a more capable adversary, even Arabs, leads them into panic and flight.
Act in harmony with armored vehicles do not know how in principle.
Rating - meat in the package.6. Arabs.
Mercenaries, rebels, many regulars ...
The concepts of tactics and strategies for them are as far as the delights of Samantha Fox to an average homosexual from the banks of the Seine. Their war is to shoot ammunition boxes in the direction of the enemy, while calling to the bar and periodically blowing themselves up with everything that comes handy. However, the latter does not apply to regulars, they are relatively silent and disciplined, they know how to use grenades.
Cowardly, but not alarmist.
Rating is a convenient target.5. American regulars.
How many films are shot about the invincible American army ... There is only one BUT.
The Yankees are absolutely unable to fight without artillery preparation, tanks and air strikes.
If the territory was not burned to the state of a deserted desert, the soldiers will not go there. And if they do, they do not return back.
They shoot very well, well coordinated, but are timid in front of any resistance. Then become easy prey.
Losses are going through hard, until the complete loss of combat capability. Underpants.
Rating - biting dogs.4. American mercenaries.
Good fighters. They know how to act as a team, and alone, beautiful shooters. There are desperate individuals that are sometimes difficult to cope with.
But they have a very weak point - morality. And the lack of motivation, except money. The corpse does not need money, so most of them do not climb there,
where it is absolutely hot. And in every possible way avoid the first line of fire.
Dogs of war, if evaluated.3. Asians.
I did not come across regulars. Mercenaries are able to deliver a painful headache to any opponent. If act as a group.
What is in their heads is not clear, but they are capable of any folly. They shoot beautifully, they often act from ambushes, into which the enemy enters according to a cunning plan. Asians do not care about the support of equipment, aircraft and shells.
They do not care if there are cartridges or not. The main thing is the presence of fellows.
But alone, alas, they become useless.
Rating - the army of the emperor.2. Caucasians and Afghans.
Strong warriors. Fine arrows. Hardy, brave.
Able to act in groups, alone, motivated and insidious. In combat, they act competently, they know tactics and strategy. They are not afraid of technology and air strikes, they effectively operate from ambushes
They have the only weak point - unable to fight to the last breath, a rare fighter is able to sacrifice themselves for the sake of common victory. Unless he is a shahid, but this is completely different.
story
...
Rating - real fighters.1. Russians.
To oppose the platoon of Russian mercenaries is a fierce, bloody kapets.
They fight to the end, to the last bullet, and when ammunition runs out, they use everything they have at hand. Mortally wounded Russian? Do not touch him, most likely before his death - he squeezed a grenade without checks.
Russian inventive, have excellent intuition. And ... they don't care.
Did the plane arrive? Anyway, knocked down with a sapper shovel. Tank? Anyway, if not broken arms. Fighters who have never held SVD are able to get out of it at the critical range at a critical moment.
And still, that it was the last cartridge, they will beat the enemy with the rifle itself. Tactics and strategy? Easily! Any composition, from the army to the half-dead cripple, holding alone the company of the enemy ...
Russians, even mercenaries, are not able to retreat.
And if they retreat, they can be sure they are just running for the cartridges.
All of the above applies to the army, who are more or less fired.
However, for this, in most cases, sufficient - the only clash ...
Ranking - Warriors!