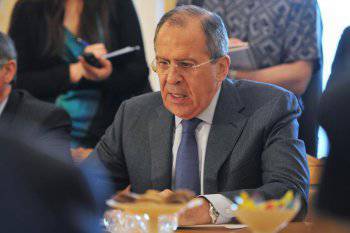 As the
"RT in Russian"
, Russian Foreign Minister Sergei Lavrov met in Havana with his Cuban counterpart Bruno Rodriguez. At the very beginning of the meeting, Lavrov said that Russia does not support the sanctions announced by the US and the EU "contrary to common sense."
The Russian Foreign Minister noted the need for the earliest possible resolution of the Ukrainian conflict through a national dialogue. He then expressed his gratitude to the Cuban side for "supporting the position of Russia" in connection with the situation in Ukraine caused by the coup d'état, supported by Western countries. At the same time, Lavrov stressed that the embargo against Cuba is "absolutely unacceptable."
In addition, today the Russian Foreign Ministry stressed that the sanctions imposed by the EU on the Russian Federation, speak of a complete lack of understanding of the Ukrainian situation in Brussels. It is noted that the European "black list" has grown to 48 people. All of them can not enter the EU until November, and their bank accounts in European banks will be frozen.
Yesterday, US Secretary of State John Kerry said that in the near future, the United States could begin the fourth phase of sanctions against the Russian Federation, implying a restriction of work with the energy, defense and financial sectors of the economy.
It is worth recalling that the United States imposed sanctions on Cuba in 1960 in response to expropriating the property of its citizens and organizations. Subsequently, they were expanded to an almost complete trade and economic blockade of the island. UN countries have repeatedly made statements about the need to lift the blockade of Cuba. In particular, the resolution 2011 of the year "The necessity of ending the economic, commercial and financial embargo imposed by the United States of America against Cuba" was supported by the 186 states.
In October, 2013, Bruno Rodriguez estimated the damage in 1.126 trillions of dollars over half a century of sanctions, noting that with the coming to power of President Barack Obama, the island's blockade only tightened.