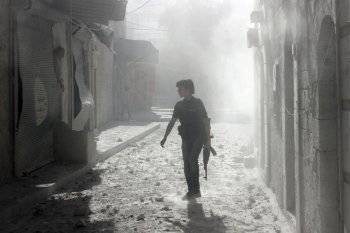 The Russian Foreign Ministry requested explanations from the Ukrainian and German sides about the final recipient of the Ukrainian rifle
weapons
, Said
"RT in Russian"
.
"In the media there was information about the supply in Germany of semi-automatic small arms of Ukrainian production. It is indicated that it is unlikely to be used in the army of Germany. The Syrian "rebels" are called as a possible destination of this weapon, says the comment of the Information and Press Department of the Russian Foreign Ministry on the website of the Foreign Ministry.
Earlier, German media reported that the Ukrainian state concern "Ukroboronprom" carried out the supply of automatic small arms to Germany, approved by the German "responsible state agencies."
According to the experts of the American non-governmental research organization of the Jamestown Foundation, it is possible that the ultimate recipient of weapons is Syrian militants. American analysts say that in the period from 2011 to 2012, Germany received more than 50 thousands of small arms, the fate of which remains unknown.
In this regard, the Russian Foreign Ministry is awaiting "clarifications from Ukraine and Germany" about the final recipient of such arms transfers.