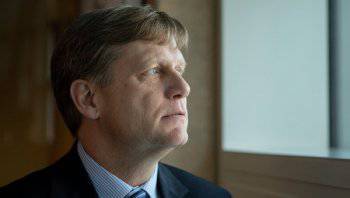 As the
RIA News"
, a former American ambassador to Russia Michael McFaul spoke on the humorous talk show The Colbert Report, who admitted that Russian President Vladimir Putin considered him to be a "personal enemy". In addition, McFaul shared his vision of the reasons for the failure of the "reset" policy.
According to the former ambassador, the term "reset" in relations between Russia and the United States was first used by Barack Obama in 2009, when Dmitry Medvedev was Russian president, but after Putin's return, the Russian foreign policy changed. According to McFaul, Putin believed that he and Secretary of State Hillary Clinton helped the Russian opposition. At the same time, the ex-ambassador did not deny that he had met with many opposition leaders.
"Putin did not love me, yes. He even confessed it to me personally once or even a couple of times, "he told the host of the program, Stephen Colbert. According to the former ambassador, he was constantly monitored during his stay in Moscow. At the same time, he categorically rejected the host's assumptions about possible recruitment: "If I were to be recruited, I would like to be treated better."
In addition, McFaul commented on the current situation in Russian-American relations. In particular, he said that the United States would never have sent troops to the Crimea, since "no one wants to do this." The ex-ambassador believes that the second "reset" will not be needed, and the current "cooling" will continue for quite a long time.
It is worth recalling that McFaul served as ambassador from January 2012 to February 2014. Many experts consider the diplomat to be an expert on "color revolutions", and his resignation is attributed to the fact that he was unable to organize a coup in Russia.
McFaul himself noted in an interview that he had made two miscalculations while working in Russia. "The fact that we, Russia and the United States, failed to demonstrate leadership in the Syrian issue three years ago," and that he "failed to destroy the myth that the United States only wants to stage a revolution in Russia and destabilize it".
In March 2013, The New York Times published an article by McFaul in which he spoke of the need for international isolation of Russia.