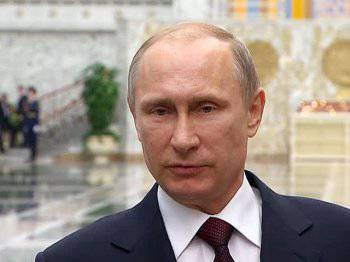 As the
"RT in Russian"
, at a press conference after a meeting of the Supreme Eurasian Economic Council, Russian President Vladimir Putin said that events in Ukraine show who led the process, but initially the United States preferred to remain in the shadows.
"I think what is happening now shows us who really guided the process initially. But in the first steps, the United States preferred to keep a low profile, to a certain extent, the interests of the United States and its European partners coincided, because the European Union represented by the European Commission wanted to sign a certain agreement with Ukraine on unfavorable, I think, conditions for Ukraine, "he said.
Information Agency
"Vesti"
notes that Putin called on the Kiev authorities to "establish a dialogue within the country," and not to look for those guilty in other states.
Also, the President of the Russian Federation said that there are no Russian military personnel in Ukraine.
"We then hear that there are our special forces there, then instructors. I declare responsibly: there are neither Russian instructors, nor special subunits, nor troops, there is nobody there, "he said.
In addition, Putin raised the issue of OSCE military observers, expressing the hope that the conflict will be resolved, and they will be allowed to leave the territory on which they are located without difficulty. According to him, if the government or those who call themselves governments invite some observers, then these people should understand that they are going to the conflict zone. "But all participants in this process will have to draw conclusions from this, from this situation. And continue to prevent such mistakes, "he added.