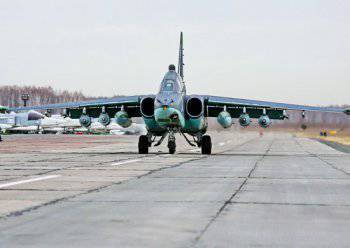 On the
Online
The Ministry of Defense of the Russian Federation published a message from the press service of the Central Military District about the entry into service of the Russian Kant base, which is deployed in the territory of the Kyrgyz Republic, a link of modernized Su-25 attack aircraft. The first two aircraft have already arrived at the airfield, the second two will fly from the Shagol airbase in the Chelyabinsk region in the near future.
It is noted that before being sent to Kyrgyzstan, attack aircraft flew around the pilots of the Central Military District (CEC) as part of the qualifying stage of the competition on air skills of flight crews of Aviadarts-2014.
Aircraft carrying a full bomb load, flew to the Safakulevo training ground in the Kurgan region. There they made bombing and missile launches. It is reported that the radial deviation from the center of the targets did not exceed 5 meters, which confirms the high accuracy of the weapons and the readiness of the attack aircraft to carry out combat training tasks.
Thanks to the new aircraft, the intensity of the combat training of pilots at the Edelweiss mountain range will increase.