Revolutions never contribute to the prosperity of society. They permanently create zones of instability. Smart countries are trying to go different - evolutionary way.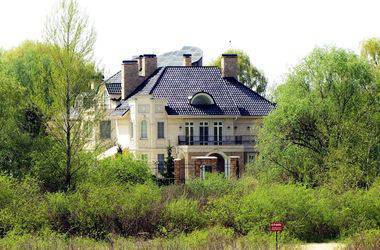 Why Europe? You can live well in Ukraine. The main thing is to get good neighbors.
In recent days, I increasingly recall this Ukrainian proverb. Does she not accurately describe the current situation? Want to "change"? And how do you like them? Crimea is gone. Southeast requires either a federation or a branch. In Slavyansk - "anti-terrorist" operation. Hryvnia falls. The rent is expensive. Those administrative buildings have not yet been released, these are already captured. Some people are dying. Others are scared to death. In what boundaries Ukraine will exist, no "expert" will say. But ... the political part of the association with the European Union was signed! What a fantastic happiness, right? I do not know about you, but it does not warm me. I would prefer Ukraine without any associations, but without civil war - with calm waters and clear dawns.
Maybe someone has a different opinion. But I have never in my life received money from any foreign fund "for the development of democracy", I am not going to line up for them and have a completely legitimate desire that the government in Kiev (whatever it may be) make decisions not after consultations with the heads foreign intelligence services, but based on our own national interests. As long as Ukrainians do not agree with Ukrainians (and without blood and terror in relation to each other), no associations or Customs unions will bring us happiness. The sad one convinces me of this
historical
the experience of my homeland.
"FUNNY NEGOTIATION PROCESS"
. What, say, was the same hetman Skoropadsky bad? Criminal record? None! Wealth - hereditary, well-established and not so great. He spoke German and French as in Russian. Ukrainian language - introduced. Russian - respected. In Kiev, there were either four or five daily newspapers (it was at the height of the civil war!), Political opponents walked around freely where they wanted (the hetman kept Petlyura a little in prison and immediately released), rolls and sausages almost grew in the trees (at a time when even Germany was starving for the finale of the First World War).
And this quite cute character is overthrown. Why? And you see, he didn't like the then-democrats. Too intellectual, too lord, besides - a former royal general. Is it not a crime?
By the way, Skoropadsky tried to negotiate with the then radical "opposition" - offered her a place in the government, conducted secret negotiations about which neither Bulgakov officers from the "Days of the Turbins" nor Mikhail Afanasyevich even guessed.
Traces of these futile searches for a national compromise are found in the diaries of Vinnychenko, the first Ukrainian prime minister of the Central Rada epoch that preceded the hetman, and one of the founders of the Directory, who in ten days will depose the hetman. However, the characteristic that, after this meeting, the nervous playwright awarded his companion in 1918, is worthy not of the sovereign husband, but of a hysterical anonymous author who leaves comments on any of the political Internet forums: "The whole process of negotiations with this unfortunate, stupid and slobbering cretin about the "cabinet". Here he is sitting in the red "my" office, at the same table at which I received delegations, ambassadors from the Entente, commissioners, Bolsheviks ... this limited, uneducated, probably sick officer of the Russian army absolutely sincerely believes that he is a hetman. "
Could they find a common language with such an attitude of one "negotiating" party to another? Why should Vladimir Vinnichenko decide that he was a "stupid" and "uneducated" cretin? Behind the hetman are the Corps of Pages and the Academy of the General Staff. Getman, I repeat, speaks several foreign languages. He will leave the most interesting and witty memoirs, written explicitly by himself, and not by the nameless "literary Negro".
Who, in fact, gives him this derogatory assessment? World scientific luminary? Academician? Professor? By no means! Just a very overgrown (thirty-eight-year-old!) Undereducated student of the law faculty of Kiev University. The revolution seemed to him more interesting than Roman law, he plunged into it headlong, he was expelled from the alma mater fifteen years before the historical conversation with the hetman, and he never received a higher education. Not the search for truth moves pen Vinnichenko, and envy. Result? Oppositionists and hetman did not come to a common denominator, despite the fact that he was ready to share power with them: if you want a place in government, take it!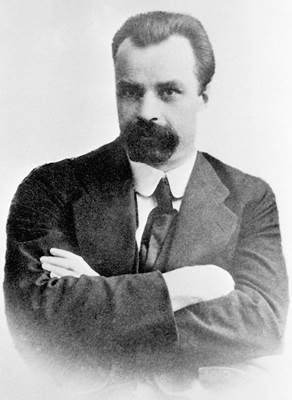 Vladimir Vinnichenko saw in the hetman Skoropadsky just an uneducated nerd.
And the third power came
. Exactly three months after these "constructive" talks in Kiev, there will be neither Skoropadsky nor Petlyura with Vinnichenko. Having overthrown the hetman, a couple of "directors" would immediately cede power to the Bolsheviks, who came from red Russia. But they could agree, share powers, unite supporters. Theoretically, yes. In practice, the "democrats" wanted everything only for themselves. And got it ALL. But only for a moment. And then those who came to call "cretins" came did not even turn their tongues in Vinnichenko. And his stinginess somehow immediately lost its sharpness.
You can love the mythical Ukraine, inhabited only by heroes and beautiful murals and surrounded on all sides by "warriors". And you can - a real country with uninvented ordinary people. I prefer the second. Our main enemies are not "Muscovites", not "Poles", but ourselves. Our greed and envy. Our infantilism. Our everlasting hope for a miracle.
God gave us an amazing land. Other nations can only dream of such. With a mild climate. With a thick layer of black soil. With mineral wealth. With deep rivers. With forests and mountains. With access to the warm Black Sea.
Any Ukrainian knows that to die of hunger on such a land is simply impossible. Even in the midst of the wildest, worldwide crisis, there is always a chance to return to the native saddle, plant a vegetable garden and grow a couple of piglets under the cherries.
If God did not give this land oil and gas (although he still gave a little of that and another - in the Carpathians and Sumy region), then only because you cannot give everything to only one people on Earth. Must be something to get to others.
EUROPUPISM
. But I cannot understand the inferiority complex in front of Europe and America, which, as a religion, is practiced by many of my fellow tribesmen. This is some kind of obsession, eclipse. Than tiny Croatia with a stub of the Adriatic Sea is better than Ukraine? Or Germany, resembling a solid car factory? Or the Czech Republic is a rather dull country with monotonous landscapes, where, to be honest, apart from beer and good food, I did not notice anything special.
I have been to Europe. Spending a minimum of money, mostly on the bus drove half of it. I liked something. Something frankly amused and disappointed. But he never experienced any special piety before her, either on wisdom, and even less generosity, did not count on her.
Probably because I knew her story too well. Europe is arrogant. She never repents for what she did. She sent colonial expeditions all over the world, organized fierce wars, threw firewood into smoldering conflicts among neighbors near and far and never forgot about her interests.
In former times, Europe spoke of Hitler with frankness about us: "If Russians, Ukrainians, Kyrgyz, etc. learn to read and write, it only hurts us. For in this way the more able natives will be able to join in with some historical knowledge, which means that they will assimilate political ideas that in any case will somehow be directed against us. It is much better to install a reproducer in each village and thus inform people
news
and entertain them than provide them with the opportunity to independently learn political, scientific and other knowledge. Only so that no one in the head would take it on the radio to tell the conquered peoples about their history: music, music, nothing but music. " And now the same Europe hides only behind beautiful gestures, like distribution of cookies on the Maidan.
Do not expect anything good from Europe, no matter how you feel about Russia. Europe will not help. Even your ass will not lift for your sake. Remember the fate of Czechoslovakia in 1938 year. Europeans Chamberlain and Daladier were given to eat by its European Hitler and did not lift a finger to keep him on the chain.
Having closed their eyes to any agreements and the principle of "post-war inviolability of borders", it was Europeans who enjoyed watching how they cut themselves into parts of Yugoslavia, and then they cut out new dwarf states from it.
You can learn from Europe, but it is useless to listen to it. Problems in the Southeast? Let us recall the Austrian experience in 1867. The unitary state, the empire, found the strength to overcome disintegration to turn into a two-pronged Austria-Hungary. This was contrary to the pride of the Habsburgs, creating instead of one, in fact, two capitals - Vienna and Budapest. But the imperial elite (good, no one prompted her to come out) changed the rules of the game and satisfied the demands of the Hungarians, who were ready for the uprising.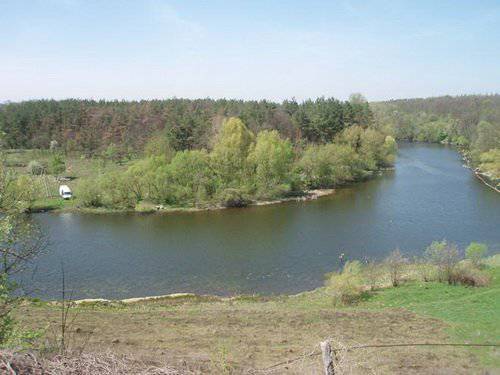 Just Ukraine. In which Germany will you find such freedom?
GERMAN FEDERATION
. In the first half of the XIX century there were no Germans in the modern sense of the word. There were thirty-nine (!) Independent states in Germany. With its ancient history, ruling dynasties and numerous wars that they fought against each other. One fine day the idea was born that it was time to stop with such ugliness. Like, living in a large state is better than in four dozen small ones.
But the unification of Germany went with the preservation of all local regional differences. Despite the emergence of a central government with the emperor at the head of 1871, the division into kingdoms and dukedoms was maintained until the 1918 year. On the eve of World War I, the symbolic ambassador of Prussia was still sitting in the capital of Saxony, Dresden, and the Saxon ambassador was still in Berlin! The same thing happened in other regions of the federation. Thus, they strived not to affect the feelings of local patriotism of the Bavarians, Saxons, Wuerttemberg and other "Germans" who became citizens of one union state. After all, unity does not mean sameness.
I do not insist on copying this experience one by one. It would be funny if the regions of Ukraine brought ambassadors and exchange diplomatic notes with each other. Ambassador of the Donetsk region in Kiev, Ambassador of the Chernivtsi region in Donetsk - it sounds crazy. But I cannot but recall these seemingly curious precedents from German history. They prove with what tact the rude, superficially, Germans were able to relate to other Germans, as demonstrated by ritual respect between the parts of the young state.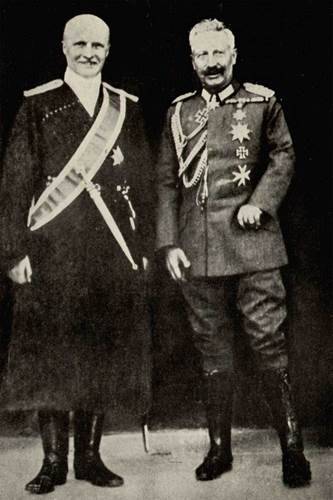 Skoropadsky was able to negotiate with the German Kaiser, but not with the Ukrainian opposition.
Agree, and do not kill! Eastern regions today do not believe the official Kiev. Many cities there really got out of control. But the use of military methods will not correct the situation. I finish this article when it was reported that a military helicopter exploded at Kramatorsk at a military airfield during the so-called "anti-terrorist operation". What is it? A good shot of an unknown sniper? Sabotage pilots who do not want to carry out orders to pacify Slavyansk and undermined their own car? It is unlikely that someone will establish with accuracy the reason for the next episode of civil confrontation. But this case with a helicopter once again demonstrates the limitations of the power methods of establishing "order".
The only thing that gives me joy is the news that no one died. I do not profess the principle: "Barely hirsh, abi inshe". I do not like bad news. Not deliver the slightest pleasure messages about the new dead and wounded.
The political crisis can be solved only by political means. Whether or not a new government is legitimate, it is pointless to reason. The president lost control and disappeared from the country. He led a risky game and, as they say, finished badly. But it is this new government, not Yanukovych, that now bears responsibility for the fate of the state and its citizens until the moment of the new presidential election.
European and American advisers to the Maidan did not assume that Putin would behave much more actively on the field of Ukraine than was expected of him? Why, I have always said: do not overestimate the sincerity or vision of the West. He plays Ukraine. But this is not the last chip in his game. This is alien land for the EU and the USA. But to us it is dear. We have no other country. Hide
weapon
in the sheath. Drop the pride. Sit at the negotiating table. And do not see in each other "cretins" like Vinnichenko in Skoropadsky. Of course, both of them didn't end badly. One - in France. The other is in Germany. Everyone in a cozy house. But dreamed of something to rule Ukraine!