Rogozin advised Americans to deliver their astronauts into orbit using trampolines
As reported on the site
lenta.ru
, Deputy Prime Minister Dmitry Rogozin, amid sanctions imposed by the United States against Russia, advised the Americans to use a trampoline to deliver their astronauts to the ISS. Earlier, Rogozin has already stated that the anti-Russian sanctions implemented by the European Union and the United States will definitely return to them as a boomerang.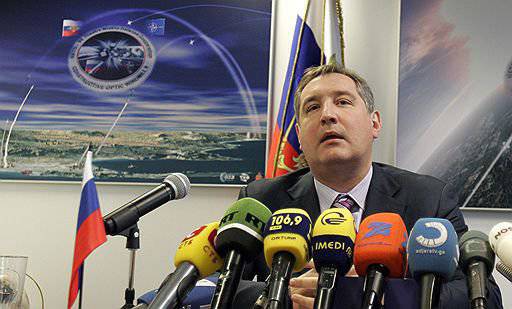 The vice-premier in his Twitter microblog noted that the issue of restrictions against the Russian space industry causes him a lot of emotions, which he still has to restrain as a member of the government's leadership. Further, Rogozin added that the imposition of sanctions is a kind of boomerang that returns and then the one who launched it suffers. But apparently, the United States and the European Union have forgotten about this, and therefore behave accordingly.
Also, mentioning the introduction of restrictions against the rocket and space industry, Rogozin stressed that trying to clean up the Russian industrial services market with the help of sanctions, first of all, the United States is putting the European Union and the European Space Agency at risk.
Recall that on the eve of the American authorities have increased the list of restrictions imposed on Russia, due to the worsening situation in Ukraine. Thus, 17 Russian companies, including Rostec Corporation, were added to the list. Meanwhile, at present, astronauts are delivered to orbit exclusively by Soyuz ships, for one place in which the US pays Russia about 70 million dollars.