In Lugansk, the building of the regional state administration came under the control of local residents. The police did not provide serious resistance to the protesters. Coordinator of the "People's Community" of Lugansk in an interview
RIA News"
confirmed the information that the building of the Luhansk Regional State Administration passed into the hands of supporters of federalization.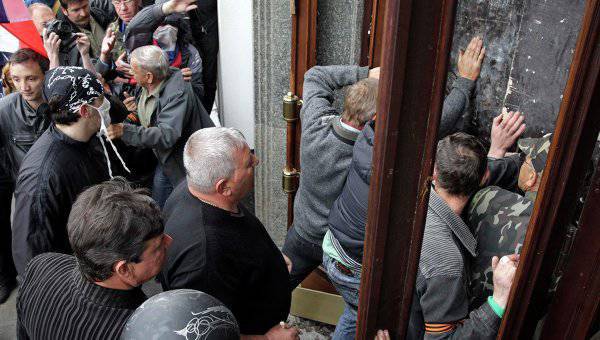 On the square in front of the RSA in Lugansk, according to eyewitnesses, gathered at least 8 thousands of local residents. The gathering took place after the ultimatum expired, which the residents of the Luhansk region (Luhansk Republic) put forward to Kiev. The demands were completely ignored by the Kiev junta, which made the citizens take active steps to defend their interests.
Residents of Lugansk, who participated in the rally, declare that they did not plan to seize the RSA building initially, but when they realized that Kiev was going to move towards the aggravation of the situation and clearly did not want to meet the residents of the region, they decided to act more decisively.
Lugansk militiamen left the building of the Regional State Administration, without having shown any serious resistance to the protesters. As reported by Lugansk people's self-defense activists, the police only initially blocked the path to the regional state administration, but then they did not dare to go on aggravation.
Lugansk militia spokesman Alexei Karyakin said that activists are not going to hold the building. Their main goal is to conduct negotiations with the authorities: the governor and deputies.
In order to disseminate objective information about the events in the city, the Lugansk activists decided to occupy the building of the local television and radio company.
Events developed rapidly in the neighboring Luhansk-Donetsk region. Here, in five localities (Snezhnoye, Torez, Shakhtersk, Gornoe and Krasny Luch), flags of the Donetsk People's Republic were raised on the flagpoles of the buildings of urban (rural) administrations. On the building of the city administration Torez, the DPR flag is adjacent to the Ukrainian one. Locals explain this by saying that the referendum on the status of the republic has not yet been held, and administratively it is still part of Ukraine.