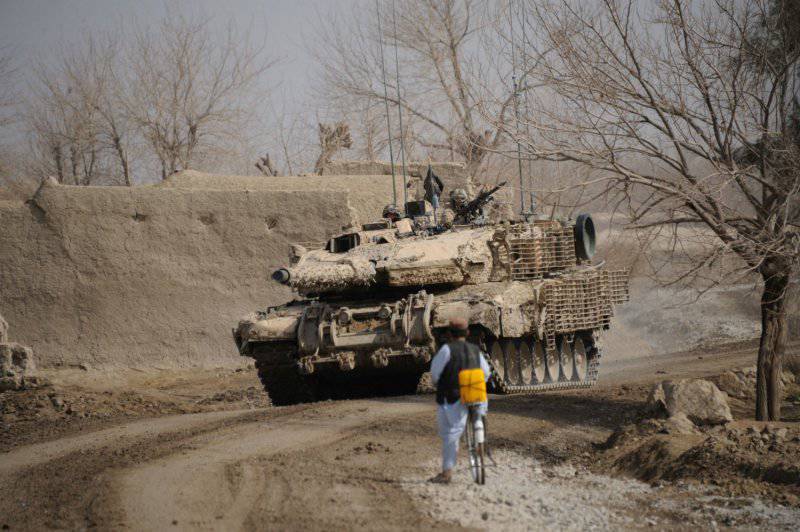 Soldiers from the 12th armored regiment patrol the tanks LEOPARD C2 along Route Hyena, ensuring the safety of local residents, soldiers from the Allied contingent and the Afghan army during road works
The death of the main battle tank (MBT), as we know, was predicted several times already. It was assumed that it would be replaced by guided missiles and lighter machines that are easier to deploy and that are more suitable for urban operations. However, the excellent combination of lethality, mobility and protection in the MBT plus exceptional modernization possibilities regarding situational awareness, communications and battle management saved him from "extinction".
The ability to fight despite the multiple hits of rocket-propelled grenades and to protect the crew from all threats, except for large IEDs, demonstrates the relevance of using this class of combat vehicles against insurgents on narrow city streets, despite the fact that their original purpose was to conduct combat with their "equal" in open areas for long distances. But everything could have gone according to another scenario; Russian MBT losses in urban battles in Chechnya in 1995 year became an ominous omen that did not promise anything good, but later ABRAMS and CHALLENGER 2 tanks proved to be effective in Iraq along with LEOPARD OBT from the Dutch and Canadian contingents who later showed themselves in all beauty in Afghanistan.
The most authoritative military-industrial powers consider the MBT as the basis of their forces, which is why they created their own third-generation tanks, while their export potential fades into the background. A series of Israeli tanks MERKAVA, Italian C-1 ARIETE, Japanese Type 10, Korean K2 BLACK PANTHER, Turkish ALTAY (based on Korean BLACK PANTHER) are examples of this. The British tank CHALLENGER 2 and the French MBT LECLERC almost match this pattern, each is in service with the developer country and one foreign buyer. Some Eastern powers, for example, China with their Type 99, India with ARJUN and the FMBT program on advanced MBT and Iran with the ZULFIQAR tank, adopted a similar approach. The only Western third generation models that were widely sold for export are ABRAMS and especially LEOPARD 2, but even they are losing ground in the market for new cars before the onslaught of oriental projects.
New Eastern Superiority
In its latest annual survey, Forecast International predicts, up to 2021, the size of the market for new MBTs in quantities of over 5500 pieces worth approximately 24,25 billion dollars. More than half of this volume, the study says, will be Chinese Type 98, Pak-Chinese AL-KALID and T-90C series tanks manufactured in Russia or in India under license. It is expected that they will make up almost 55% of the market in quantitative terms, but only less than 44% by value. The new production of "advanced" tanks, represented by the ABRAMS and LEOPARD families, as it is supposed in the report will make up about 23% of the market in quantitative terms and 36% in terms of value.
Most operators, however, are more likely to upgrade their tanks than to replace them with new ones. This gives opportunities to companies of special systems, such as Elbit Systems, which invest a lot in electronics, optoelectronics and complex protection systems for MBT platforms. "Knowing our market, I could say today that [in the West] ... the production of new tanks was actually stopped," said Maimon Yfergan, vice president of ground systems at Elbit Systems, although he also believes that for modernization will continue for several decades.
"We see another phenomenon that such countries as Germany, the USA, Russia, Ukraine give almost for nothing existing platforms with outdated systems on them," he said. "In a few years, these systems will become obsolete and all tanks will undergo modernization."
Elbit is upgrading the electronics and optoelectronics of TAM German-made medium tanks in Argentina, as well as participating in a much larger project on upgrading T-72 tanks in India (and looking at the T-72 modernization market worldwide). In each project, the company establishes a complete set consisting of a new MSA, advanced thermal imagers for the shooter's and commander's observation devices. Optics arrow with a panoramic view, thermal imaging and laser ranging, now has a reasonable redundancy and is becoming increasingly popular. "This is also what I would say over the past three years has become a mandatory requirement in the market for all types of tanks."
He also comments on the increasingly popular tendency to install cameras around the machine to ensure continuous coverage of 360 ° for crews operating with closed hatches. "Along with the battle management system, the issue of situational awareness has become very important for the operation of the tank," said Ifergan.
Remotely controlled combat modules (SDMs) have become a widespread phenomenon. In addition to providing auxiliary weapons, which can be serviced by a loader or a commander, the SDS can also be the commander's main aim, combining two functions in one system. "This is what companies and customers are starting to think about," said Ifergan.
The US Army intends to keep the M1 ABRAMS MBT in service until about 2050. This represents a significant change in strategy, as it was about to replace it with a much lighter machine in accordance with the program Fighting Systems of the Future (FCS). The abolition of FCS definitely played a role in changing priorities, but the real world combat experience, of course, had a greater impact.
Continuous circular coating 360 ° is also in the area of ​​interest of Schott. The field of view inside the protected vehicles is very limited and creates inconvenience for the soldiers. Schott expanded its normal field of view with its tank periscope from the angle of view 180 °, increasing it from 8 ° to 28 °. To achieve this effect, three lenses are installed together so that they give a panoramic picture from 180 ° to 360 °, when their images are aligned side by side. Images are transmitted using fiber-optic rods; this is already a fairly mature technology that Schott has been putting into practice for many years.
Canada selects WISENT 2 BREM
After a three-year competition, the Canadian Defense Ministry recently issued a contract to Flensburger Fahrzeugbau Gesellschaft (FFG) for 81559692 dollars worth of 13 BREM WISENT 2 AEV (Armored Engine Vehicle). These 13 vehicles will be taken from the surplus of the Dutch and Swiss LEOPARD A4 tanks and then converted into a BREM configuration using the FFG experience. In accordance with the initial application, the BREM should tow a car with a weight equal to the combat mass of the BREM itself on a cable or with the help of other towing devices; preparation of towing an ARV by a crew should be no more than 10 minutes; the winch is either single or double, must provide traction force 70 000 kg using no more than one chain hoist with double cable laying. After winning the FFG competition, of course, the WISENT 2 machine was chosen among all the participants.
In accordance with the compensation regulation, this machine will be largely Canadian, FFG Canada has become the main contractor. The WISENT 2 BREM is an innovative machine for military engineering tasks, it can be used to help create, develop and clear the main supply routes, bridgeheads for crossing water barriers and access roads to bridges. It is usually also used to remove or place obstacles and barricades on the battlefield. This universal engineering vehicle is particularly useful in peacekeeping operations to rebuild national infrastructure destroyed during a conflict. The special working systems WISENT 2 include the modern articulated arm-excavator and the high-performance dozer blade. The excavator bucket has a capacity of 1,3 m3, performance over 300 m3 per hour, working depth to 5,3 m and departure 10,2 m. The machine can also be equipped with a mine plow. WISENT 2 is one of the most advanced multi-functional platforms in the world. It is based on the LEOPARD 2 MBT, which is deployed in many countries and is considered one of the most successful tracked vehicles in service. WISENT 2 stands out in that it is a technically mature and proven system, having proven to be extremely manoeuvrable, powerful and reliable in combat.
The conversion of the MBT to the WISENT 2 BREM, as well as to the armored recovery vehicle ARV (Armored Recovery Vehicle) begins with disassembling and upgrading the standard LEOPARD 2 tank. Advanced welding and the installation of a modern hydraulic system are followed by the installation of a modern crew module. The result is an easily adaptable platform WISENT 2 with a high level of protection already in the basic configuration. Due to the rework of LEOPARD 2, FFG created a multifunctional platform that meets the extremely high demands of the modern battlefield and rapidly changing combat missions. This upgrade allows the WISENT 2 support machines to work with maximum flexibility and quickly complete tasks in operational areas. The newly developed platform also expands the capabilities of commanders in operational spaces.
An important feature of WISENT 2 is a modernized and adaptable booking solution. Even in basic configuration, the crew is protected to the 5 level in accordance with NATO STANAG. When using standardized attachment points, base armor can be quickly upgraded to protect against RPGs by adding passive or lattice armor, SidePRO LASSO or ERA (Explosive Reactive Armor - dynamic protection units). Improved mine protection is achieved by installing an additional splinter tamping and a second armor plate on the bottom of the vehicle. The ground clearance does not change. Improved ballistic protection for the WISENT 2 is achieved by installing armor at low angles and an internal anti-shatter podboy.
The WISENT 2 machine not only offers excellent protection and adaptability to a combat mission, it is also very reliable and has a low lifetime cost. The 2% options for WISENT 95 AEV and ARV are identical in terms of logistics and have the advantages associated with the availability of common parts, which reduces costs over the entire life cycle.
A key enhancement of the WISENT 2 is a specially designed intelligent hydraulic and electronic system. This advanced electronic and hydraulic architecture designed by FFG ensures that the operator can quickly and easily change tasks and switch to other equipment with confidence.
WISENT 2 can take a variety of equipment to perform a wider range of combat missions. In addition to the repair crane and excavator arms, mine plows, equipment for automatic marking of passages and dozer blade with a specially designed adapter can be installed on the WRENT 2 BREM with a specially designed adapter that increases its lifting height. In addition, devices such as miniature trawls, milling heads, concrete cutters, augers, etc. can also be used with a standard hydraulic interface. To meet the specific requirements of the customer and to improve the combat capabilities for the WISENT 2, additional tools and working bodies can be designed.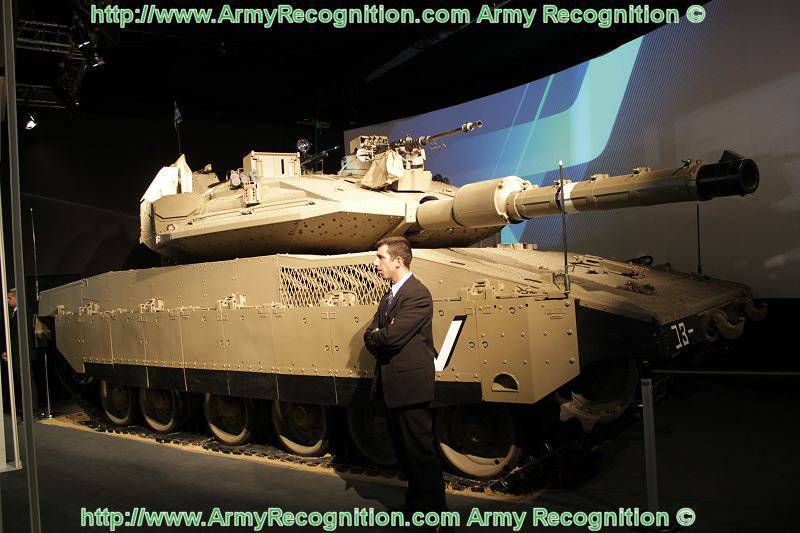 MBT MERKAVA Mk IV at Eurosatory 2010
Significance of ABT ABRAMS for urban counterinsurgency operations
The main combat phase of the invasion of Iraq in 2003 showed the work of the American and British MBTs; they were expected to participate exclusively in the traditional, fast-moving tank war, but a surprise happened in the second battle for the city of Fallujah in November 2004, when the US Army and Marine Corps ABRAMS OBT played a significant role in the US victory. In a report by the RAND Corporation (California Research and Development Center) 2012, commenting on recent trends in armored forces, a source in the marine corps was quoted as saying that tanks are an essential factor for success in counterinsurgency, which helps minimize indirect losses from its fire and sustaining beats
weapons
Rebels, which could destroy any other fighting machine. For example, ABRAMS tanks, rammed by cars with explosives, are exposed to enormous explosive forces so that "all the external equipment of the tank is destroyed, but the design causes minimal damage; repairs can usually be completed in one day. "
While the US Army did not deploy ABRAMS tanks in Afghanistan, the Marines deployed their vehicles at the start of the 2011 of the year. The Marine Corps, which is armed with the ABRAMS M1A1 version, installed most of the TUSK (Tank Urban Survival Kit) military kit for increasing urban survivability of a tank in urban areas and reinforces its tank battalions by adding a fifth tank company to each of them.
Like the US Marines, the British Army also sees its CHALLENGER 2 MBT as a vital and necessary force for success in the main combat phase and the protracted insurgency of "Taurus"; It has the same position in its BMP WARRIOR. British sources interviewed for the RAND report said that the CHALLENGER 2 tanks tend to intimidate insurgents who are becoming less active around tanks. The only CHALLENGER lost in the main combat phase was hit by friendly fire from another CHALLENGER, several tanks were damaged in counterinsurgency, and none were lost due to the need for very large IEDs to seriously damage the CHALLENGER 2 tank.
Despite the proven usefulness of the CHALLENGER tanks in Iraq, Great Britain did not deploy them in its area of ​​responsibility in the Afghan province of Helmand, citing logistical difficulties and "excellent" support for Canadian MBT LEOPARD 2 based in the neighboring province of Kandahar.
In the British strategic defense and security review of 2010, the coalition government announced plans to reduce the fleet of CHALLENGER 2 by about 40%, although the modernization work known as a program to extend the capabilities of the CHALLENGER 2 tank (C2CSP) implies maintaining the relevance of the TAN to the estimated decommissioning around 2035 year. C2CSP includes earlier CHALLENGER mortality programs (CLIP), according to which the current main 120-mm gun will be replaced with the smooth-bore 120-mm Rheinmetall L55.
The C2CSP program began in 2007 and BAE Systems was invited to participate in it, but already the following year, insufficient funding caused delays. Responding to questions in the House of Commons in May 2011, Deputy Minister for Defense Property, Security and Technology Peter Luff said that C2CSP was in the very early stages of creating the concept and that there were no costs incurred.
Nexter showed its AZUR urban battle kit for the LECLERC tank in 2006, providing OBT with composite armor skirts, lattice screens for the hull and turret to protect against RPGs and installing additional shielding of the engine from incendiary bottles.
The RAND report also says that the Canadian experience in Afghanistan also instantly showed the value of MBT when the LEOPARD 1 tank division was thrown onto the theater after the initially deployed LAV 3 confirmed its lack of firepower, protection and mobility to cope with such goals, as, for example, buildings made of reinforced concrete, as well as threats, including mortars, RPGs and recoilless guns, on difficult rugged terrain. The LEOPARD 1 tanks have proven themselves so successful that Canada quickly acquired the surplus of LEOPARD 2 Dutch and German tanks and deployed them in Afghanistan at the beginning of 2008, where they, upgraded with on-board screens to protect against RPGs and more powerful air-conditioning installations, became more successful than with the previous model.
In July, 2009, the Canadian government signed a contract with Kraus Maffei Wegmann (KMW) to upgrade 20 tanks to the configuration of LEOPARD 2 A4M CAN, specially adapted for operations in Afghanistan. In October 2010, they arrived in this country. This upgrade is based on work done on the A6M option and technology, which KMW recently agreed with the German defense procurement and technology department. Basically, it provides for the strengthening of all-protection against anti-tank shells, mines and IEDs. As part of the modernization, an "innovative equipment interface" has also been added for devices such as mine rollers, mine plows and dozer blades.
The LEOPARD 2 Danish tank units deployed in Afghanistan presented very similar data to RAND, emphasizing the accuracy and reactivity of the 120-mm tank gun, which minimizes indirect losses and catches fear on the rebels.
After the second Lebanese war, 2006, the Israeli army again focused on armored war and the role of MBT, after several years of honing low-intensity conflict management skills. Analysts refer to this conflict as an example of a "hybrid war", which combines the lethality of the conflict at the level of states with the prolonged conduct of irregular hostilities. Replacing outdated tanks and infantry fighting vehicles with the MERKAVA Mk 4 MBT and the NAMER BMP, which is based on the MERKAVA chassis, the Israelis improved their general combat skills, RAND reports, and successfully applied them to the Lead Shield operation in the Gaza Strip in 2008 year . These machines are distinguished by protection sets, which include a V-shaped armored bottom for deflecting mines and IED explosions. In conclusion, the RAND report states that armored forces based on tanks and infantry fighting vehicles are a key component of any army that must fight "diverse enemies" with certain training, discipline, organization, operational management and modern weapons. "Light and medium forces complement heavy (armored) troops in a mixed war, especially in urban and other difficult terrain, but they do not ensure the vitality, lethality or mobility that are inherent in armored forces. Everything is very simple, heavy forces reduce operational risks and minimize friendly losses. "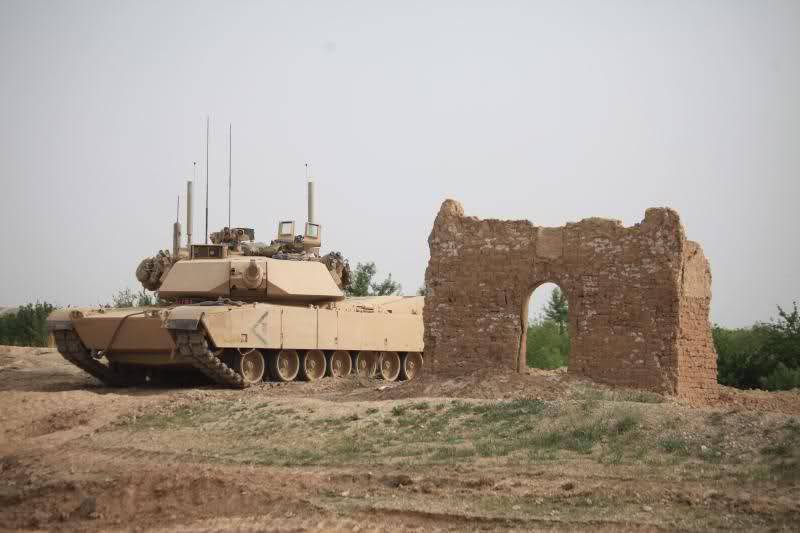 Marines of the 1 platoon of the 1 Tank Battalion attached to the 26 Expeditionary Force are guarded by the M1A1 Abrams tank before the bridge crossing in the Green Zone in the Afghan province of Helmand. Part of the 26 Expeditionary Force deployed in Afghanistan provides regional security in Helmand province in support of the international security assistance forces in Afghanistan
Despite the fact that the ABRAMS tanks shone in urban battles in Iraq, the experience gained revealed certain shortcomings in situational awareness, defense and firepower. The GDLS company, together with the design office for the armored brigade group, set up its forces to eliminate them, creating a TUSK (Tank Urban Survivability Kit) tank survivability kit.
The current variants of the US Army ABRAMS tank are the M1A1 Situational Awareness (M1A1SA) and the M1A2 SEP. The first is an upgrade of M1A1, which includes the installation of steel armor plates with a core of depleted uranium to increase protection in the front arc and from the sides of the tower, improved suspension, a modern computer with integrated diagnostics, a second-generation thermal imager and a laser range finder. In SEP V2, improved color displays, thermal sights, a commander's remotely controlled combat module (CROWS II), a heat release control system and a telephone for communication with infantry outside have been added.
The US Defense Department's costs of maintaining, upgrading and upgrading its ABRAMS fleet dropped dramatically in 2010 and 2011, according to Forecast International, but GDLS received 2012 million dollars in an existing contract from the command of the life cycle of an armored vehicle to continue modernization in early January 60 M1A1 options up to standard M1A2 SEP (Systems Enhancement Package - System Upgrade Kit) V2. In February, 2008, the GDLS, received the main multi-year contract to upgrade the 435 tanks M1A1, which were in warehouses for more than two decades, and continues to remodel tanks that are in active service in the army before the configuration M1A2 SEP V2. These works were completed by June 2013.
Despite the revolution in Egypt, ABRAMS co-production continues, and in mid-November 2012, the product life cycle command gave GDLS a contract worth 395 million dollars for the production of 125 tank kits M1A1 for the Egyptian tank program.
It is not clear how these kits could affect the production capacity of ABRAMS in the United States, which the army wants to close in 2014 and re-open in 2017 in order to continue the process of upgrading tanks. It is estimated that it is cheaper than keeping a line operating with a minimum volume during these three years.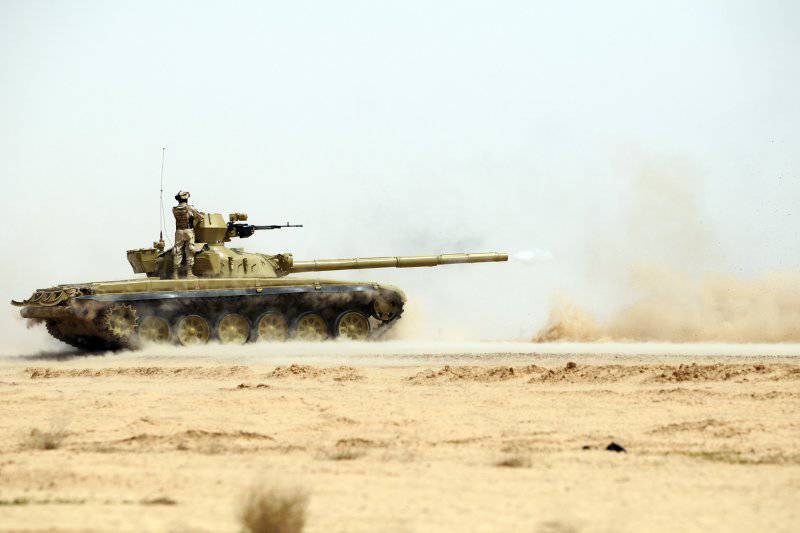 An Iraqi tank T-72 shoots at targets during a joint shooting exercise with American soldiers at the Besmaya range. These exercises allowed the Iraqi security forces to learn fast loading techniques and improve accuracy.
LEOPARD evolution
The LEOPARD family of tanks was chosen by 16 countries; This is the most successful Western MBT in export markets. Even for the powerful LEOPARD, the prospects for new production are insignificant, but KMW is full of optimism. As Christoph Muller, head of strategy and corporate communications of the company, explained: "It has become clear that the need for an MBT will remain in the future. And there will always be a big question on the total number of tanks that you need. But when protection, mobility and firepower are combined with the capabilities of the review, there are no other ground systems that could be a substitute for a tank. "
The newest LEOPARD 2 A7 + has been shown in June 2010. Among the innovations is a kit for urban operations, providing circular protection against RPGs. "Double set" provides additional protection against armor-piercing shells and shaped charges, especially in a frontal arc, which is most vulnerable in tank duels.
KMW can integrate active protection complexes that are capable of destroying attacking ammunition, but Muller at the same time expresses some concerns: "We are very closely watching the developments of active protection complexes. To deal with dangerous threats such as attacks from above, they have no alternative, but we also see how users are concerned due to their secondary impact. No matter where the protective ammunition is detonated, near the vehicle or in 10 meters, it does not matter, as the tanks work closely with the infantry, so there will always be a risk for people near the system. "
However, passive armor using innovative combinations of metals, ceramics, and reinforced polymers in defense systems, sometimes including also reactive components, has come a long way in recent years. Some of its types offer protection not only from simple IEDs and RPGs, but also more sophisticated threats, for example, charge-forming devices, and some reservation systems offer protection against multiple RPG hits. "There is tremendous potential in passive protection," said Muller. "It makes sense to explore these possibilities."
The fire power improvements are based on the ability to fire a new 120-mm programmable high-explosive projectile designed to destroy targets behind cover or inside buildings, as well as on KWW FLW 200 RWS. It can be controlled with battered hatches and can be fitted with various weapons, including an 40-mm automatic grenade launcher and machine guns up to the caliber 12,7 mm. Along with the flexible addition of firepower, the DBMS also improves situational awareness. The sensor package consists of a color camera, an uncooled thermal imager and an optional laser range finder. You can add new ATTICA thermal imagers for the gunner and commander, day / night surveillance cameras with a wide field of view and new body / thermal imaging cameras for the driver.
Improvements in mobility include new final drives, suspension, brakes, improved tracks, and an optional dozer blade. The auxiliary power unit (APU) allows the crew to work with different systems without starting the main engine.
Installing the APU is a common thing when upgrading the MBT, but fully hybrid power units are still very far from real incarnation. "We have invested heavily in the development of hybrid energy in this area, but no existing technology allows us to obtain the required mobility on the battlefield, especially with respect to the power reserve. A very big question arises regarding the prospects of a hybrid system that would allow a machine with 60 - 70 tons to cross 500 km over rough terrain. It is only a question of the source of energy, the biggest question is reliability. When it comes to onboard power consumption, then hybrid technologies become an interesting addition. "
Since KMW has shown a LEOPARD 2A7 + upgrade, which is based on the needs of the German army and the club of LEOPARD countries users, little has been said about sales. The company keeps its mouth shut, but Mr. Müller let it slip: "Many countries show great interest in our system".
Little space for new
While the thriving modernization market is good for industry, the lack of demand for new MBTs leaves little room for new design solutions. For example, uninhabited towers are starting to appear on new machines, such as the German PUMA, but it is not possible to upgrade existing MBT with uninhabited towers with weapons, because there is no room for the commander and the shooter in addition to the driver. MBT with uninhabited tower, most likely, will have a completely new design.
According to the chief of the technological department of the ground-based systems division at Elbit, Nachman Levinger, who has spent many years working on armored vehicles projects, including the MERKAVA series, "the situation is sad because you can get a lot from this configuration." He is a lawyer for uninhabited towers and remotely controlled weapons: "Once you have placed people in the hull and tower, you must protect a large volume that cannot be protected as well as if they were put in a small volume."
In addition, he suggests that changes in crew accommodation can change the configuration of any future MBT: "Maybe people will not sit as usual in front of the car. This is a philosophical question and you will need to solve it. "
Despite the limitations of current hybrid technologies, Levinger believes in the promise and importance of systems that generate large amounts of electrical energy for consumers, such as electromagnetic armor and directional energy weapons. He believes that large amounts of energy will be needed to provide "future solutions that can neutralize activity or act for a very short period of time" against buried IEDs and ingeniously placed projectile-forming charges, which cannot be determined.
He also noted that solutions to neutralize threats in urban environments require much more than just changes in the tank design philosophy, focusing on automatic sensors for detecting bombs and determining activity on their installation. "I tell all the countries in the coalition to do a great job of finding solutions that can detect and disable these types of VCA or minimize the number of people in the machines and protect them to the maximum extent."
Materials used:
Military Technology
www.monch.com
www.rand.org
www.rheinmetall-defence.com