29 April in Moscow will be the first rehearsal of the Victory Parade this year on Red Square. During the rehearsal will involve not only military personnel, but also columns of military equipment. Reports about it
"1 Channel"
.
In the rehearsal of the main parade dedicated to the 69 anniversary of the Victory in the Great Patriotic War, about 11 thousands of soldiers of various types and types of troops, students of Suvorov schools and cadet corps will take part. About 150 units of military equipment will pass through Red Square.
Starting from 21: 00 in Moscow, all residents of the capital and its guests will be able to observe how preparations are made for the celebration. Two more such opportunities for those who want to see a bright spectacle immediately before its official presentation will be presented to 5 and May 7. May 7 will host the final rehearsal for the Victory Parade.
In connection with the latest events in Ukraine, attention is riveted on the version in which the Victory Parade will be held in Kiev.
Interfax
reports that the self-proclaimed Kiev authorities decided to abandon even such a concept as the Victory Parade, and instead use the term "military
historical
procession. "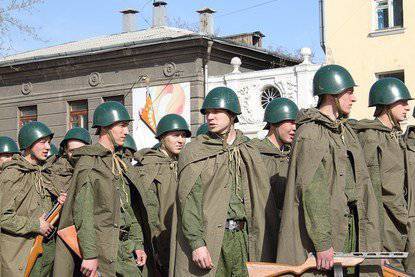 Press Service of the Ministry of Defense of Ukraine:
From 11: 30 to 12 hours of May 9 on the territory of the Memorial Complex "National Museum of the History of the Great Patriotic War 1941-1945 years" a military-historical procession will take place with the participation of veterans, cadets, a company of drummers, as well as historical military equipment.
In the light of the Maidan events (ripping off the St. George ribbons from people, demolishing monuments to Soviet soldiers, worshiping Nazi criminals), Kiev would have to clarify exactly which veterans will take part in the organized march.