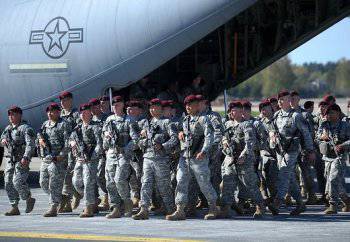 According to LETA, the Latvian side will spend several hundred euros a month on the maintenance of a company of American paratroopers.
According to the representative of the Ministry of Defense of Latvia Dace Kundrate, the US military will be deployed on the basis of the support of the host country, that is, Latvia will have to cover the living expenses of the soldiers in the Adazi military base. In fact, it will be necessary to pay for the consumption of additional electricity, cleaning of the premises and laundry. The cost of heating will not increase, as the base was heated before their arrival.
All other expenses, including meals for military personnel, will fall on the shoulders of the American side.
According to the concluded agreements, certain material and technical means will be provided within the framework of already existing agreements. For example, fuel. The US side reimburses the relevant costs according to the actual use of resources.
Countries pay for the process of training according to the principle of exercises - the USA pays for the expenses of its military personnel, Latvia for its expenses. At the moment, the parties are completing the coordination of curricula.
Recall that the 150 of American paratroopers will remain in Latvia, at least until the end of this year. As the deputy commander of the US Army in Europe, as part of the NATO military exercises, fighters from one of the best units arrived in Latvia - the 173 airborne assault brigade of the US armed forces.