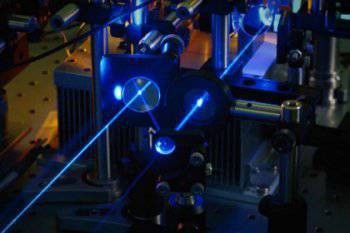 As the
"Lenta.RU"
, the command of the American army signed a contract with Lockheed Martin, providing for the development and production of combat fiber laser power 60 kilowatts. In the future, like
weapon
will be used to destroy unguided rockets, mortar shells, artillery shells and unmanned aerial vehicles.
A new laser facility is being integrated into the HEL MD experimental platform (mobile high-energy laser demonstrator. "According to company representatives, the facility will be equipped with several fiber lasers to produce a high-power beam using spectral alignment technology.
So far these are all details about the development of a promising 60-kilowatt fiber laser.
It should be noted that the presentation of the technology of spectral alignment of fiber lasers was held in January 2014. Then the company Lockheed Martin demonstrated laser power 30 kilowatts, which used several generators. Optical fiber was used to transmit rays to a special combining device.
In the new installation, each laser beam will have a different wavelength. The device combines laser beams from various optical lines into one powerful high-quality beam. It is noted that the company's specialists managed to reduce energy consumption by 50% compared to solid-state lasers.