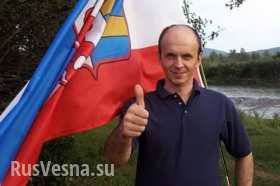 According to the
"Russian Spring"
, a criminal case was initiated against one of the leaders of the Subcarpathian Rusyns movement Peter Hecko. Representatives of the press service of the Ukrainian Prosecutor General's Office reported that the activist was suspected of having committed a crime under Article XXNX Art. 2 of the Criminal Code of Ukraine - "encroachment on the territorial integrity and immunity of Ukraine, committed repeatedly by prior agreement by a group of persons."
According to investigators, in January-March 2014, the leader of the public organization "Republic of Subcarpathian Rus" Pyotr Getsko appealed to Russian President Vladimir Putin with the help of publicly available information Internet resources with a request to begin a peacekeeping operation to restore and recognize the statehood of the Republic of Subcarpathian Russia. In addition, Getskov gave an interview to one of the Russian TV channels, in which he publicly called for a change in the administrative-territorial structure of Ukraine through the recognition of the Republic of Subcarpathian Rus and the non-recognition of Ukraine's unitarity.
At the moment, Getsko is wanted.
According to the "Russian Spring", the indigenous people of Transcarpathia call themselves Rusyns. Most of them profess Orthodoxy and do not consider themselves to be Ukrainians, considering themselves to be part of the Russian world. Rusyns are trying to achieve national autonomy with 1991 year. Then a regional referendum was held, in which most of the residents of the Transcarpathian region supported the autonomy of the region.
It should be noted that Hungary has claims to Transcarpathian territories. At the end of March, a rally of the Jobbik party was held in Budapest in support of the return of Hungary to Transcarpathia.