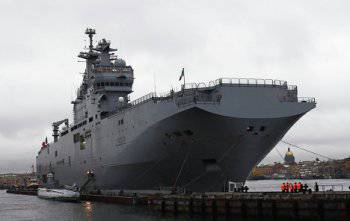 As the
RIA News"
The Ministry of Industry and Trade Denis Manturov once again voiced the Russian position in the event of the official refusal of France to supply the Mistral helicopter carriers.
"They are obliged to hand them over to us at the end of the year, there was no official refusal. Any official refusal - and there will be a consequence from our side, we will present considerable penalties, "he said.
However, according to the director of the state defense order department of the United Shipbuilding Corporation Anatoly Shlemov, at the moment there are no prerequisites for France to give up its obligations.
"Two Mistral-type ships are being built in accordance with the concluded contracts. The first will be based on the Pacific
navy
. He successfully completed three trips to the sea, is now preparing for the fourth, and I have no doubt that he will be delivered on time. I have no doubts about the implementation of this contract, "he said on the air.
"Echo of Moscow"
.
As recalled
"Morning.RU"
, 18 on April on the French television channel TF1 was made by the French Foreign Minister Laurent Fabius, who called the situation in Crimea "the biggest crisis since the cold war," not excluding the "military response to Russian actions." Later, a message appeared in his Twitter message that it was necessary for France to suspend the delivery of two Mistrals to Russia, which are being built in Saint-Nazaire.
A little later, the situation was commented on by Deputy Prime Minister Dmitry Rogozin, who said that if France waived its obligations, it would have to return all the funds transferred. However, he noted that "after such statements, in any case, there was an unpleasant aftertaste."
Russia and France have signed a contract worth 1.2 billion euros, providing for the construction of two Mistral-type helicopter carriers for the Russian Navy, in 2011 year. They build on the STX shipyard in Saint-Nazaire. The first ship "Vladivostok" of the Russian Navy will have to receive at the end of 2014 of the year, and the second - Sevastopol - until the end of 2016 of the year.
The helicopter carrier of the Mistral type is considered one of the most advanced ships of its class. Its displacement is 21 thousand tons, length - 210 meters, speed - up to 18 nodes, and cruising range - up to 20 thousand miles. The number of command ship 170 people. As part of the air group 16 helicopters, six of them can simultaneously be accommodated on the takeoff deck.