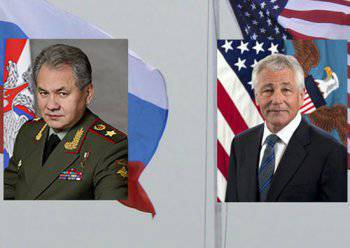 As the
ITAR-TASS
On April 28, a "detailed" telephone conversation took place between Russian Defense Minister Sergei Shoigu and Pentagon chief Chuck Hagel, in which the tense situation in Ukraine was discussed.
"In a frank manner, the two sides exchanged concerns over the tense situation in Ukraine. We discussed the problem situations arising in this connection, connected both with the actions of the American armed forces near the Russian borders and with the general activation of NATO military activities in Eastern Europe. The ministers also exchanged views on ways of a possible reduction of military tensions in the region ", -
reported
press service of the Ministry of Defense of Russia.
The Russian minister called the "unprecedented" increase in the activity of the armed forces of NATO and the United States in Eastern Europe near the borders of Russia, noting that this is happening against the background of the "provocative statements" by the NATO Secretary General on the need to "contain Russia".
In turn, Hagel explained the actions of Brussels and Washington to "extreme concern" with the situation that had arisen around Ukraine. He noted that the actions of the alliance do not have a "provocative or expansionist" character, they merely demonstrate "bloc unity and an increase in the defensive capabilities of the allies."
Sergei Shoigu strongly denied the "baseless allegations of the presence on Russian territory of Russian sabotage and reconnaissance groups, allegedly destabilizing the situation in the south-eastern regions."
"The prospect of harsh power actions against the civilian population," noted Shoigu. - forced the Russian side to announce the start of large-scale military exercises on the national territory in the regions adjacent to the borders with Ukraine. This decision was made public. "
The minister also said that when the Kiev authorities declared that they would not use the army against unarmed citizens, the Russian troops returned to their places of permanent deployment.
According to Shoigu, before the start of the exercises, the Kiev authorities concentrated on the south-east of the country a military group of 15 thousand, under the pretext of "fighting terrorism".
The Russian Defense Minister confirmed "readiness for contacts with all interested parties in order to de-escalate tensions".