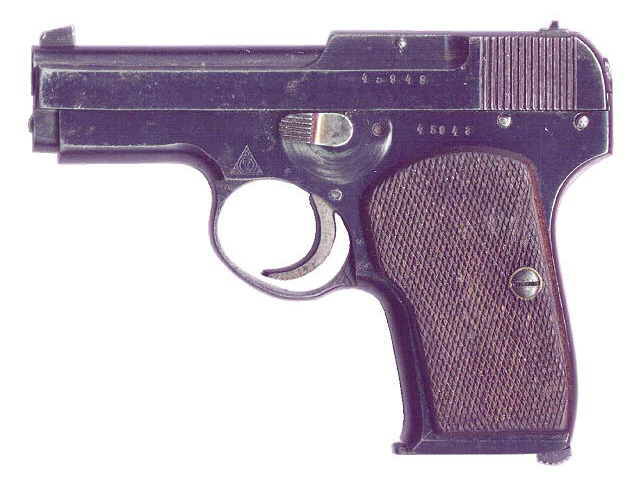 The first sample of the TK pistol (Tula Korovin) chambered for 7,65mm Browning was developed by Sergey Aleksandrovich Korovin in the 1923 year. However, primarily because of the complexity of the design and the large mass, this gun was not adopted by the Red Army.
But in 1925, the Dynamo Sports Society suggested Korovin to remake the pistol chambered for 6,35x15,5mm SR Browning in order to get a pistol for sports and civilian purposes.
Korovin went further. He not only upgraded the pistol itself, the munition itself, which received an enhanced powder charge, underwent significant changes, which made it possible to increase the initial velocity of the bullet from 200 m / s to 228 m / s, and, accordingly, the penetrative and stopping effect of the bullet. In 1926, the production of the first serial domestic self-loading pistol began, which received the designation TK (Tula Korovin, GAU index - 56-А-112).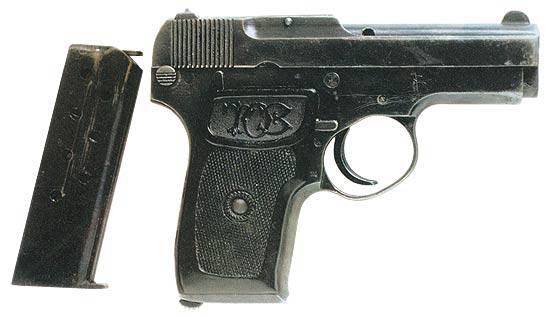 The pistol is built according to the free-bolt scheme, the return spring is located on the guide rod under the barrel. USM shock, single action. A non-automatic fuse is located on the left side of the frame. The tail of the ejector plays the role of an indicator of the presence of a cartridge in the chamber. Single-row, box-shaped magazine for 8 cartridges located in the handle. Magazine latch located at the bottom of the handle. Sights fixed, simplest type. The gun is made of steel, the lining of the handle cheeks is plastic.
TC turned out to be quite heavy, but with a high survivability of parts. It is necessary to highlight such design flaws as small grouping (at a distance of 25 meters the dispersion was 25 cm) and an awkward handle. Among other things, wearing a pistol on a combat platoon not only led to a large number of misfires due to the "settling down" of the spring, but it was also unsafe for the owner, since the fuse blocked only the trigger without affecting the drummer, which often ended in disrupting the drummer from the platoon . The cartridge 6,35x15,5mm Browning, even with an enhanced charge of gunpowder, did not provide sufficient efficiency.
Already at the beginning of 1930, a pistol was upgraded, mostly due to the simplification of its manufacturing technology. The casing of the shutter was inclined, not vertical notches, without grooves on both sides ejected. In order to unify the production with a TT pistol, the cheeks of the handle were fixed not with screws, but with locking strips.
Due to the lack of an alternative, the TK quickly gained popularity among the commanders of the Red Army, Soviet, party and Komsomol activists. Many TK pistols were given to production leaders and Stakhanovists. From 1926 to 1934, about 300 thousands of TC pistol pieces were produced year.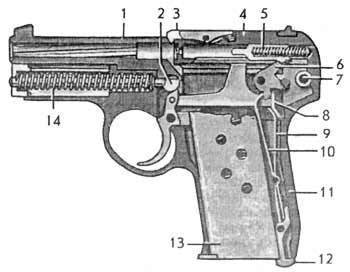 1 is a barrel, 2 is a fuse, 3 is an ejector, 4 is a nox shutter, 5 is a spring-loaded drummer, 6 is a sear, 7 is a backplane, 8 is a trigger rod, 9 is a single-handed XNXXXXXXXXXXXXXXXXXXXXXXXXXXXXXXXXXXXXXXXXXXXXXXXXXXXXXXXXXXXXXXXXXXXXXXXXXXXXXXXXXXXXXXXXXXXXXXXXXXXXXXXXXX frame, 10 — magazine latch, 11 — shop, 12 — return spring
Performance characteristics
Caliber: 6,35 mm
Patron: 6,35 x 15,5
Weight unloaded: 0,423 kg
Weight with full magazine: 0,485 kg
Gun length: 127 mm
Barrel length: 67,5 mm
Height: 98 mm
Width: 24 mm
Number of grooves: 6
Cutting length: 186-193 mm
Muzzle Bullet Energy: 83 j
Store capacity: 8 cartridges
Rate of Fire: 25-30 vyst / min
Initial speed of the bullet: 228 m / s
Automation system: free shutter recoil
Fire mode: single
Liner ejection direction: Up
Aim range: 25 m
The radius of dispersion at a distance 25 m: 25 cm