Donetsk has once again become a city of active confrontation between supporters of the Maidan and anti-Maidan. At the same time, according to the initial data, the tone of the confrontation is set by football fans who attacked the rally of supporters of federalization on the square near the Donetsk Olympic stadium. TV channel
LifeNews
with reference to eyewitnesses, they provide information according to which radical nationalists belonging to one of the fan groups have attacked the opponents of the junta.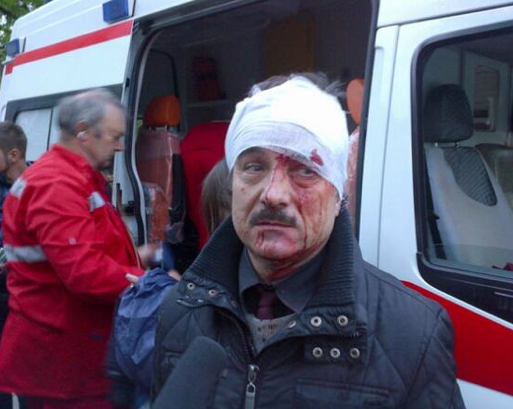 Proponents of federalization have reported that at the moment they have managed to literally disperse the attackers, calling on those who are not indifferent to the Pitmen who do not support Kiev to go to the rally. The following appeal was circulated to social networks in Donetsk:
Donetsk! Stadium "Olympic"! Supporters of Maidan and Ultras! They shout out: Glory to Ukraine! Urgent all to the stadium! Anyone who can resist! Donetsk, do not sleep!
Leaders of football fan clubs have not yet confirmed the participation of fans in the attack on protesters near the stadium. Meanwhile, local residents are confident that it is precisely the groups of so-called "ultras" that are used as provocateurs to shake the situation in the city.
On Monday, two meetings were held in the city. Supporters of the unitary structure of Ukraine, on the one hand, and supporters of federalization, on the other, expressed their opinions on them. Until a certain point, the situation was relatively calm, while the thugs in sportswear and masks began to provoke protesters. Ukrainian publications, in particular,
"Donbass News"
, referring to eyewitness accounts, claim that the attackers were with St. George ribbons. The question of what prevented the provocateurs from tying St. George ribbons was not specified.
Today in the Donetsk region a contract soldier of the Ukrainian army was killed as a result of a bomb blast. Another soldier was seriously injured. This is reported
"Vesti.Ru"
. The incident occurred during a scheduled inspection of the engineering barrier infrastructure.