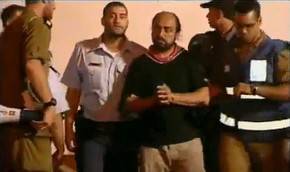 IDF Press Service, 16 days after the interception "
flotilla
Freedom "released the first film about the journey of Turkish sea robbers to Gaza.
The film, in which all materials previously published by the IDF are mounted, creates a clear picture of what happened, from an Israeli point of view.
The film is accompanied by voice-over comments in English, and, apparently, is intended for viewing by the general world community.
The bitter irony is that it was shown on the second channel of Israeli TV and "hung" on its website - that is, it can only be seen by those who have knowledge of Hebrew and the Israeli Internet. The film, at the time of this writing, has not yet appeared on the IDF official idtnadesk youtube channel. The sluggishness of the press service and its inability to wage a propaganda war shocks the imagination. The first video, which captured the Mavi Marmara passenger attack, appeared on Israeli TV between 18: 00 and 19: 00 May 31 - previous 15 hours, all world TV stations, including the state-owned Israeli TV, were filmed with Al-Jazzira footage.