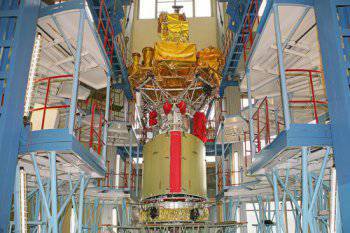 As the
INTERFAX.RU
, the specialists of the Information Satellite Systems Company (ISS, Zheleznogorsk) conducted successful orbital tests of the Express-AM5 telecommunications spacecraft.
According to the press service of the ISC, the main purpose of the satellite is digital broadcasting, provision of mobile government and presidential communications, as well as the provision of a package of multi-service services in the Far East and Siberia.
The tests of the Express-AM5 in orbit were carried out in two stages. The first to be tested was a module of service systems that are responsible for the life support of the satellite, as well as its position in outer space. Then the payload communication channels were tested.
It is worth noting that currently Express-AM5 is the most powerful spacecraft created by ISS. It is based on the Express 2000 heavy-duty platform with a power payload of 15 kW. The satellite is equipped with 10 antennas and 84 transponders that operate in four frequency bands.