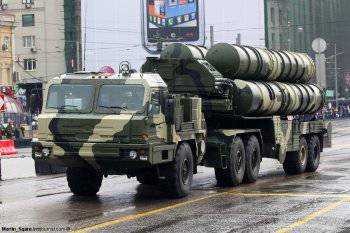 The official representative of the Aerospace Defense Forces (EKR) Colonel Alexei Zolotukhin said that the combat crews of the Zvenigorod anti-aircraft missile regiment, armed with the Triumph C-400 anti-aircraft missile systems, took to the alert duty of the air defense of the Russian capital, notes the business newspaper
"Sight"
.
"The combat crews of the Zvenigorod anti-aircraft missile regiment of the EKR Troops, which was armed with a new C-400 Triumph anti-aircraft missile system and Pantyr-C1 anti-aircraft missile systems in March of this year, successfully passed test tests on the use of C-400 systems on the basis of the only Russian training regiment of air defense. They have already conducted combat shooting at the C-400 complexes at the Kapustin Yar proving ground and took up combat duty on the air defense of Moscow and the Central Industrial District, "the colonel said.
He also noted that in 2014 more than 200 officers of the anti-aircraft missile regiments of the Armed Forces armies underwent training on the basis of a training regiment, having successfully passed the test tests on the use of anti-aircraft missile systems C-300 "Triumph".
"The air defense training regiment of the Air Defense Forces in the Moscow Region is intended to improve the training of combat crews of command posts of anti-aircraft missile regiments and S-300, S-400 divisions for conducting combat operations in difficult air conditions using real flights
aviation
and simulators "Timbre-M", - said Zolotukhin.
Training simulator "Timbre-M" can simulate any conditions of the combat situation in real time and geographic dimension. Specialists of the training regiment can prepare the combat crews of the C-300 and C-400 missile regiments to work in any area of ​​the planet.
"Last year, on the basis of the training regiment, the credit and tactical events were held more than 30 times. The regiment's specialists trained more than 70 combat crews of command posts of anti-aircraft missile regiments and divisions, and about 1000 anti-aircraft missile troops underwent control training, "Zolotukhin said.
It is worth recalling that at the disposal of the Ministry of Defense of the Russian Federation there are seven C-400 regiments, two of which were received by the defense department in December last year. The development of the C-400 "Triumph" system was carried out by the Almaz Scientific and Production Association named after Academician A. A. Raspletin. This system of non-strategic ABM and air defense with the latest software can be used in any physiographic and climatic conditions with intensive electronic countermeasures.