Donetsk People's Republic took control of another city in the Donbass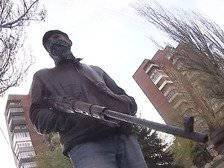 According to the news agency
"Vesti"
referring to the television service
News
(TSN) channel 1 + 1, in the morning of April 27 a group of armed men seized the police building. It is noted that unknown persons entered the building and do not allow employees to work. No requirements are put forward.
As noted by
Interfax
, local media reported that armed persons were also seen from the executive committee Konstantinovka.
RBC Ukraine
reports that barricades are being erected in front of the entrance to the building, and urban transport bypasses the seized administrative buildings.
It is worth noting that Konstantinovka is a city of regional significance in the Donetsk region with a population of about 100 thousand people, which is the administrative center of the Konstantinovsky district. It is located about 60 kilometers from Donetsk.