Supervolcano eruption in the United States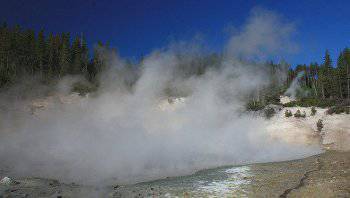 In early April, 2014, some media and bloggers have suggested that a large earthquake and the flight of animals from Yellowstone Park (USA) may warn of a coming eruption of the same name supervolcano.
As noted by
RIA News"
the last time Yellowstone Supervolcano erupted 600 thousands of years ago, and from geological
stories
the North American continent, it follows that the frequency of eruptions is exactly 600 thousands of years. But, according to experts and volcanologists, the migration of buffaloes on the territory of Yellowstone National Park and the increase in the number of earthquakes do not serve as forerunners of the next giant eruption. It is worth noting that 2.1 million years ago, the Yellowstone Volcano was covered with ashes almost a quarter of the territory of the modern United States.
As Peter Cervelli, a volcanologist at the American Geological Survey, notes, data from GPS receivers and seismometers indicate that a disaster is unlikely. "I still see no reason to say that a strong eruption is preparing in Yellowstone," the scientist notes.
According to Cervelli, humanity should be more wary of not the eruption of the supervolcano, but the fall of a huge asteroid.
Ilya Bindeman, a geologist at the University of Oregon, called Yellowstone Volcano "dying." After the last eruption, its summit collapsed, resulting in the formation of a huge depression - the caldera. According to the expert, for the next catastrophic eruption, the volcano requires a new development cycle. "I do not think that the next major eruption will occur in the foreseeable future - certainly not in the next million or two million years," - he said.
According to the spokesperson of Yellowstone National Park, Al Nash, in the migration of animals is also not unusual. "They are just migrating to the lowlands at this time, where they can find more food. Then they will come back, "he said.
It is worth recalling that the largest eruption of a volcano in the history of mankind occurred in Indonesia in 1815 year. Due to the explosion of the volcano Tambor in the atmosphere got 150-180 cube. km breeds. The temperature on the entire planet has decreased, and 1816, in the year, went down in history as the "year without summer".