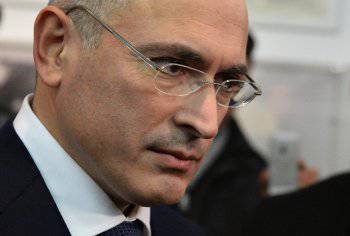 As the
"Reedus"
, the self-defense fighters did not let the former head of Yukos, Mikhail Khodorkovsky, into the building of the Donetsk Regional State Administration, asking him to leave the square.
Mikhail Khodorkovsky, who received a residence permit in Switzerland after his release, was going to meet with the head of the regional administration Sergey Taruta and the richest Ukrainian businessman Rinat Akhmetov. However, city dwellers met him extremely negatively.
"Hodor approached the regional administration building, approached a group of journalists - all Latin - to the barricades, our security forces immediately approached them and said that he had nothing to do here. He wanted to talk with people who are inside the building, but people decided that they had nothing to talk with him about, and that was said to Hodor, "said one of the militia members, Alexander Kalugin.
The militia asked Khodorkovsky to leave "in order to avoid excesses." "What can I talk to you about? You have sold your country, "said some of those present.
It is worth recalling that Khodorkovsky received a pardon in December last year. Last week, he came to Ukraine to take part in the Ukraine-Russia: Dialogue congress.
"President Putin is solving non-global strategic tasks. He again, now in Ukraine, uses his service opportunities to avenge his personal offense. And he is offended for the revolution, for the expulsion of the caught stealing ex-President Yanukovych and his corrupt entourage. Alas, the parallels are too obvious, "he noted during his speech.