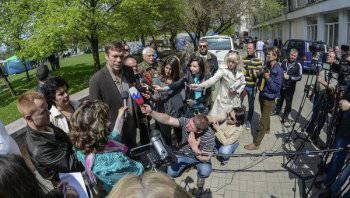 According to the
RIA News"
, a convoy of trucks and cars arrived in the city of Slavyansk, assembled by presidential candidate Oleg Tsarev.
Dozens of locals greeted a convoy of 50 cars in October Square. It is noted that water, food and cigarettes were delivered to the city.
Tsarev, who was recently attacked, was accompanied by numerous guards. "I see civilians here. I was told that there are armed fighters here, but it turned out that there are all local people who are defending completely against other armed people, "he greeted the locals.
Then Tsarev went to the building of the City Council to hold talks with the "people's mayor" of Slavyansk Vyacheslav Ponomarev. There is information that he offered them a compromise to the supporters of federalization. In particular, legalize local militias, forming a semblance of the National Guard, as happened after the Maidan.
"RT in Russian"
notes that after the talks Tsarev appealed to journalists who gathered in the square in front of the City Council.
"We drove through the whole Donetsk, Donetsk region, and everywhere, where our cars with St. George ribbons were seen, everywhere people waved their hands. We have seen that there is support, it is not just individuals, it is a movement, a popular movement. And you shouldn't fight the people, because nobody could ever win this people, "he said.
He noted that negotiations are currently under way, "so that representatives of the OSCE put pressure on the leadership of Ukraine, so that the Geneva agreements will be implemented."
"It is necessary to stop criminal cases against special forces, it is necessary to stop criminal prosecution against those people who took to the streets of cities and talked about what all residents think," he added.
In addition, Tsarev believes that army units should be removed from the region's territory to their locations.
"It is impossible at such a moment to hold elections when the army shoots its citizens," he noted.