Kharkov: football fans got into a fight with supporters of federalization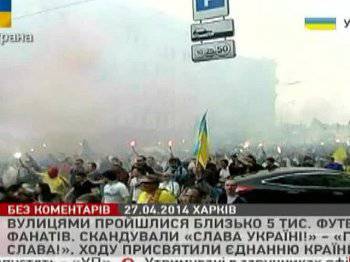 According to the news agency
"Vesti"
, supporters and opponents of the federalization of Ukraine staged a mass brawl in Kharkov. Approximately five thousand football Ultras arrived in the city, supporting the Kiev authorities, who decided to stage a "peaceful" march.
Newsru.com
notes that as a result of the brawl eight people were hospitalized, another six were given medical assistance on the spot.
Fans moved to Freedom Square, where a rally of supporters of federalization was held with the participation of about three hundred people. They began to throw firecrackers and stones, and beaten.
It is noted that not only people suffered. During the fight, a Hyundai car was broken, allegedly belonging to one of the supporters of federalization.
It is worth noting that Ukrainian television reported that three hundred separatists cruelly dispersed the patriotic procession, organized by five thousand football fans.
"Almost at the end of the march, aggressive-minded supporters of federalization tried to attack its participants, while using bits, sticks, and other objects. A fight broke out between the participants of the two meetings. Thanks to the timely intervention of the police, the conflict was managed to be localized, "said the public relations department of the Main Directorate of the Ministry of Internal Affairs of Ukraine in the Kharkiv region.
As the
"Russian Spring"
, there is evidence that radical-minded football fans are planning to attack a tent city at night, defeated by supporters of federalization on Lenin Square.